I Can Barely Take Care of Myself: Tales From a Happy Life Without Kids
by
Jen Kirkman
Published by
Simon & Schuster
Publication date:
April 16th 2013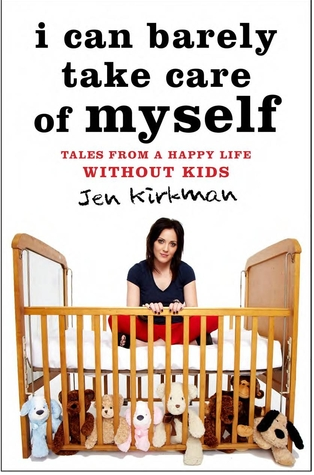 I Can Barely Take Care of Myself is comedienne Jen Kirkman's humorous look at her decision to have a life without children. A decision that is questioned and tut-tutted over by virtually everyone she knows and many whom she does not. The book's humor and strength begin even before the first chapter, meaning READ THE DEDICATION.
One of the many reasons I loved this book was because it made me laugh out loud in public and because you don't see much out there on this subject. There is plenty on women who can't have children or were denied the choice but not much on someone who wholeheartedly embraces the concept and is proud of it. It takes more courage and self-awareness to know that raising children is not the right thing to do for you than it does to procreate without thought.
Some of you may read this and be offended, which means you should definitely not read the book but if you're interested in the other side of the fence (or maybe it's your side and you need fortifications) it is very funny. It's also worth considering, this question: why don't men go through this? No one questions a man who doesn't want kids. Men and their friends don't sit around and judge each other by whether they've had progeny or not and it sure as hell never makes the news or social media. For some reason, it is a subject that can divide women and that's not funny.
I Can Barely Take Care of Myself may be purchased at:
Related Posts