The Nightingale
by
Kristin Hannah
Published by
St. Martin's Press
Publication date:
February 3rd 2015
Genres:
Fiction
,
Historical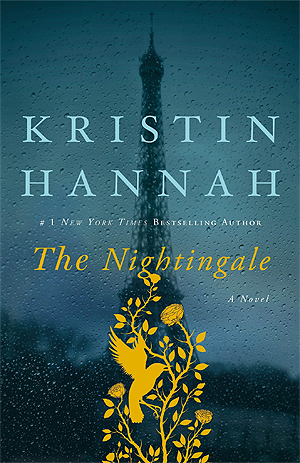 The Nightingale by Kristin Hannah begins with Viann Mauriac, living comfortably in a small town in the south of France with her husband and daughter. Her younger sister Isabelle is in one of the many boarding schools their father has sent her to. When she is expelled again she goes to live with him in Paris, which he does not want, as he has ignored both young women since their mother died. Shortly after her arrival, Germany invades France and both women get caught up in the chaos and strife that follows. For Viann, with her husband a prisoner of war, she wishes only to keep her daughter and herself alive until he comes home. For the nineteen-year-old Isabelle it seems as if the excitement she has been waiting her entire young life for has arrived and she becomes a courier in the French resistance.
Isabelle had always simply reacted in her life. Someone left her behind, she followed. Someone told her she couldn't do something, she did it. Every barrier she turned into a gate.
Hannah illustrates the differences between the two sisters in a way that moves beyond the individual to reveal the greater human dilemma in Vichy France. Viann hopes that by keeping her head down and staying quiet she will be ignored and will survive. When the Germans move into her town and she is forced to house one of them in her home she realizes there is no safety anywhere. As the years pass, she endures greater privations and witnesses increasing acts of brutality. She realizes she cannot stay quiet, even if it means risking her life and that of her daughter. On the other side, Isabelle sees that even greater risks are necessary and so harnesses her recklessness into bravery as a daring guide for Allied pilots who have crashed in German-occupied territory. She becomes known as the Nightingale for her many journeys across the Pyrenees, delivering the pilots to safety. Through the sisters Hannah delves into the indefinable turning point in a person's life where their own survival is not enough and they decide they must do something more.
The Nightingale is a classic tale of war with a flawlessly crafted plot that moves between the surface and its illusions to the truth that lies beneath. Viann and Isabelle are the focus but Hannah employs a broad range of characters that illuminate all sides of an infinitely complex time and brings forth a stunning portrayal of the countless ways individuals fought against the Nazis. She writes with such heart of love, family, loss, and redemption that The Nightingale does not release its grip even after the last page. When done poorly, a story of this magnitude, with its depths of pain and sorrow and its depiction of the devastation of war can feel overwrought. I don't like books that manipulate emotions by using well-worn ploys but those that leave me crying without knowing it earn a special spot in my reading heart. The Nightingale is one of those books.
This book can be purchased online at:


The Elliott Bay Book Company
Related Posts