Of Things Gone Astray
by
Janina Matthewson
Published by
The Friday Project
Publication date:
August 28th 2014
Genres:
Contemporary
,
Debut
,
Fiction
,
Magical Realism
,
Short Stories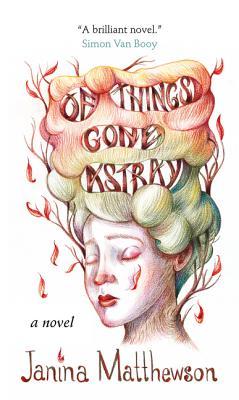 Magical realism is the moving force behind author Janina Matthewson's, Of Things Gone Astray, an enchanting novel about the everyday realities of life. In it she follows six different people in London who wake up one day to find that something important in their lives has disappeared. For Mrs. Featherby it is the entire front wall of her house, for Robert his job—literally. His office is gone and all his colleagues are no longer listed in his phone. Marcus goes to play his beloved piano and its keys have disappeared. And then there is Cassie who waits at the airport for the return of her girlfriend and after many hours and no sign of her, realizes that her feet have begun to grow into the floor. Jake's father moves them after his mother's death but as they try and get used to life without her they find they are disappearing to each other.  None of these things are a metaphor; they are real and can be witnessed by the people in their lives.
Matthewson uses a literary speed dating format by giving each of the six characters only a page or two of their own to share their story before moving on to the next. At first this can be disconcerting because just like real speed dating it doesn't foster any sense of connection. Thankfully, the similarities end there as Matthewson packs so much into each of these individual chapters that, much like Cassie's roots, the stories take hold and fix themselves into place. Then they spread until, with Matthewson's careful ministrations, they are entwined. And while each of the losses feels like a disaster they can be seen as catalysts of change. Mrs. Featherby's missing wall allows her to meet neighbors, including Robert's daughter Bonny whose childish inquisitiveness gives her pause about her restricted life. As Delia wanders trying to find home, she encounters Anthony, Jake's father, and so enters their lives, helping them see what they can't.
There seems to be quite an influx of magical realism in the book world recently. I attempted another such book after finishing Of Things Gone Astray and quickly abandoned it. The style requires the perfect touch or it becomes mawkish and silly. Matthewson makes no such mistake and the novel shines all the more for it. Even as the magic plays out, she is careful to stay away from the realm of fairytales, instead quietly keeping realism in the forefront.  Some of the characters do indeed effect almost miraculous change in their lives but there are those for whom it is too late. All of this makes for the best kind of reading, the kind you don't want to end, and that is where the real magic is found.
I received a copy of this book compliments of TLC Book Tours. To see what other book bloggers are saying about Of Things Gone Astray you can visit here to see the rest of the tour.
Related Posts