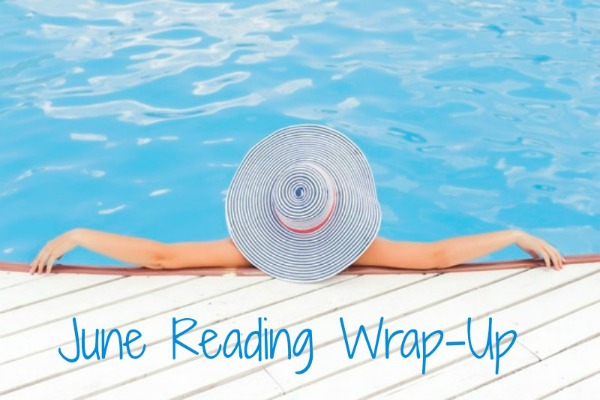 Hello, lovely bookworms! I know there are are probably only a handful of you not heading out for the long weekend, but I just wanted to quickly wrap-up my June reading because it's been an interesting month. Most of the last week has been streaming the U.S. Olympic Swim Trials and texting madly to my swim/book geek friend Sarah at Sarah's Book Shelves over everything from the excitement of a particular race, the color of nail polish someone chose, to is a particular favorite even going to make the team to how male swimmers have the best bodies in sports. Sorry, I can't be classy all the time. Here's what I read prior to the swimming extravaganza.
Library Books
The Taming of the Queen (The Plantagenet and Tudor Novels, #11) by Philippa Gregory
Published by Simon & Schuster UK
Publication date: August 13, 2015


The King's Curse (The Plantagenet and Tudor Novels, #7) by Philippa Gregory
Published by Simon & Schuster Ltd
Publication date: August 14, 2014


This is easy! I did not do much library reading, but what I did was the best kind—author-who-never-disappoints. I have a handful of authors like this, but Philippa Gregory not only writes can't-put-down fiction she writes it about one of my favorite subjects: British royal history. Don't get me wrong, I love the modern royals, but nobody rocked a scandal like the Lancasters, Nevilles, Yorks and, of course, the Tudors. This month I read The Taming of the Queen (book 5 in the Tudor series) which wraps it up for serial killer Henry VIII who's dead by the end (sorry/not sorry for the spoiler). It's about the only one of his wives to survive him,  Kateryn Parr. Honestly, what those poor women had to go through being married to such an ego-maniacal, bombastic, disgusting old man-I can't even imagine it in today's world…oh, wait, maybe I can. Well, at least now Melania can escape with her head. Maybe.
The King's Curse is also about the court of Henry VIII, but from the perspective of Margaret Pole, a noblewoman who first served as a lady-in-waiting to Katharine of Aragon and continued as a companion to her daughter Princess Mary, throughout the tumultuous times of Anne Boleyn and Henry's split from the Catholic Church.
Read
Reviews upcoming:
Ink and Bone and Before the Fall: Two thrillers I thoroughly enjoyed. 
Modern Lovers and The Singles Game: Emma Straub and Lauren Weisberger, two solid light fiction authors are back with great summer reads.
How to Start a Fire and Why and The Trouble with Goats and Sheep: The titles alone make these books worth reading so it was even better that both were wonderful.
Not so much love:
Never Leave Your Dead: This is the true story of the author's search to learn more about her stepfather, a Marine who served in China prior to WWII. The story is an explosive one of PTSD before the term existed, but I found the format and the filler to be problematic and off-putting.
We Could Be Beautiful
by
Swan Huntley
Published by
Doubleday
Publication date:
June 28, 2016
We Could be Beautiful: This should have been a DNF but I kept thinking 'something's going to happen, there is a point to this'. Sadly there was not. The paper the pages were printed on had more life to it than the characters. To say that the protagonist, Catherine West, is one-dimensional would be a stretch. She is a farcical wealthy woman who goes a bit nutty when she discovers her money is gone. There is a plot, but it is so far fetched and obvious that there's no tension. When all is revealed it's as energizing as an Ambien.
How about you? Did you have time to read in June? What are your reading plans for July?
Related Posts