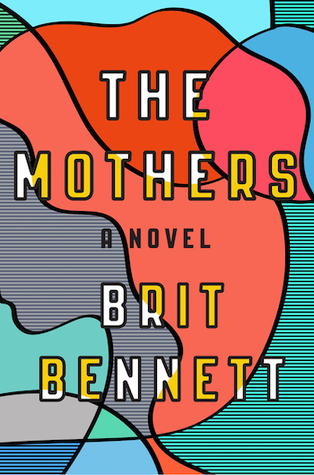 Upper Room Chapel is a church that is at the center of a Southern California black community in Brit Bennett's debut novel, The Mothers. In the last year, it is where Nadia Turner's mother was last seen alive before she killed herself, where her father, Robert goes every day to volunteer his truck in an effort to assuage his grief and where her friend Aubrey appeared, crying for salvation. It is also home to Luke Sheppard, the pastor's son. Nadia is not drawn to the church, but she is drawn to Luke and he to her, despite the fact that he's twenty-one and she's seventeen. Neither thinks it's serious because she's heading to the University of Michigan on a full ride scholarship in the fall. Until she finds herself pregnant and has to make the hardest decision of all.
Nadia's choice is the heavy weight that bears down on The Mothers. That it comes within the first fifty pages of the novel does not lessen its impact. Instead, Bennett works within our knowing what happened to heighten the tension between the characters as their lives progress. There is Aubrey, Nadia's best friend, who is so devout she wears a purity ring and Luke, who is a part of Nadia's decision, but who never manages to get his life on track after she leaves for college. Bennett also finds a Greek chorus in the Mothers—the matriarchs of the congregation—who slide in and out of the narrative with their hard-won wisdom, old-timer sayings and penchant for gossip. They cushion the narrative between Nadia, Luke and Aubrey, bringing the story back time and again to Upper Room.
There are a lot of emotions to process in The Mothers but Bennett's prose is up to the task. We read how through the years Nadia's perception of her mother's life and death impacts her own. For every achievement she reaches she can only think of what her mother have might been if she had not opted to have Nadia
How could she be proud of lapping her mother, when she had been the one to slow her down in the first place?
 It isn't until she returns to Oceanside to help her father that she begins to spend time at Upper Room, but not for religious reasons.
She was searching for her mother. She hadn't found her in any of the old places, but maybe she could find her at Upper Room, a place she'd loved, a place she'd visited right before dying. If she could not find her mother in the last place she'd been breathing, she would never find her at all.
Bennett uses the theme of mothers throughout the novel to address the very real issues facing the modern-day black community. For Luke's mother, it is worry about her son's wild behavior after his college football career ends. A foolishness she sees going only one way
Black boys couldn't afford to be reckless, she had tried to tell him. Reckless white boys became politicians and bankers, reckless black boys became dead.
With this kind of insight and strength of voice Bennett makes The Mothers sing like Upper Room's choir. This novel is permeated with heart and soul and rolls with a distinct rhythm that never falters. For this alone, it is worth reading. However, it left a twinge of discomfort that I realized was shame—that Nadia's choice was a selfish one that brought shame and pain to everyone but her. The novel is beautifully written, but while I was entwined with the characters' lives the message against Nadia's decision felt somewhat like preaching, not only by the Mothers in the novel, but by The Mothers itself.
Related Posts