Miss Jane
by
Brad Watson
Published by
W. W. Norton & Company
Publication date:
July 12th 2016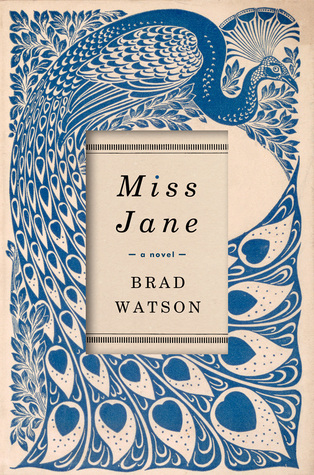 Jane Chisolm is a surprise baby, born to her parents long after her two older brothers have gone off to college and her sister is ten-years-old. But that's not the only thing about Jane that's unexpected. Her body didn't fully develop in the womb and she is born with genital defects that rule out a normal woman's life in rural Mississippi. It's 1915, a time when no medical procedures exist to help infants like her. Miss Jane is Brad Watson's poignant novel about a woman and the life she's left to lead when the roles most expected of her, wife and mother, are denied to her by her own body.
One of the very first people in Jane's life is the man who delivers her, Dr. Thompson. When she is still a child he writes to a friend about the possibility of surgery to help her.
The girl is such a delight, truly, that I hate to think ahead and imagine her living a long life of isolation and shame, which is sure to come on her if there is nothing to be done about her condition once she is older.
From the time he brings her into the world, Thompson is a constant in her life, always treating her with respect and dignity; answering the questions about her body that no one else will. When at age seven she is determined to go to school he is the one who creates a detailed plan for how it can be done. And so, with elaborate preparations that include no food or water before school and wearing diapers under loose shift dresses, she makes an attempt to join her peers and exercise her ever-growing interest in the world around her. Soon though, even at such a young age, she finds
There was no getting away from this awareness, a strange self-consciousness, as long as she was around others. And so it wasn't very long before she began to question whether this business of schooling, of trying to be like everyone else, was actually worth the trouble. The odd mingling of a sense of sadness and embarrassment.
She stops school and explores the world in her own way, through books and, as she becomes older, in helping out in the small general store her father runs for his tenants. By the time she is 24 both of her parents are dead and she's living alone on the farm. There is a chance now that an operation might help, but she decides not to do it.
In fact she would not know how, even at her young age of just twenty-four years, to start over. To become someone else entirely.
 Through Jane Watson provides a panoramic view of a life lived in a small town at a time when there was not much. Stoicism reflects off every surface of Miss Jane. It's in Jane's parents and their tenants—people who live off the land and get by just enough so that when something like the Depression comes along everything gets knocked loose. It's in Dr. Thompson, who wishes for more for Jane, but knows it's unlikely. Jane is so thoroughly of this world that she accepts her fate in the same way. Even with the small deceptions of perfume and padding she is never truly able to forget the way she is much less dream about what she wishes to be.
Because of Watson's light touch Miss Jane is one of those novels that delves without digging. The tone is somber, the story weighty and yet, by the novel's end there is the strength of acceptance in Jane. For whatever is thought about her situation or life, there is a dignity to her that negates superficial judgements. She doesn't deny the losses in her life because of her physicality, but she does not waste time questioning what cannot be changed. Watson follows her inner and outer life, from her childhood belief that a meadow near their house existed only when she was in it to a young woman's painful recognition that love may not be something she can have. Miss Jane moves at the same pace as life in the novel's setting, where little changes in the span of decades.  In doing so, Watson's prose gives us one of the greatest gifts an author can give—insight and understanding of a character. There is no miracle in Miss Jane, but there is no need for one. Jane on the page is perfect as she is.
But she was lonelier than ever, and many a night such as this she longed just to be back on the farm, alone in that way. It seemed to her to be the place she belonged. 
Related Posts