The Mare
by
Mary Gaitskill
Published by
Pantheon
Publication date:
November 3rd 2015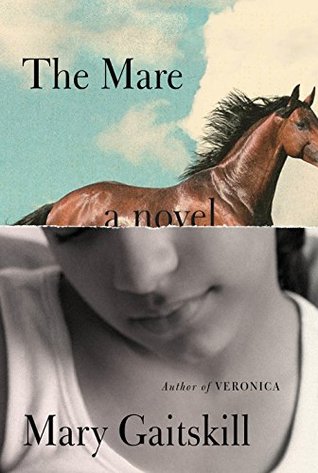 The Mare by Mary Gaitskill begins when Velvet, a Dominican girl living in NYC, is eleven and ends when she thirteen, but her life experiences go far beyond her age. Through the Fresh Air Fund, she gets to go to upstate NY for a summer and stays with Ginger ("this blond lady…her face full of niceness with pain around the edges") and her husband Paul. They live near a stable where Velvet goes to help out and learn to ride. Over the summers and weekends that pass, their bond deepens and Velvet is pulled into a world unlike any she's ever known.
The novel is written in small chapters (one page or less), each narrated by a different key character. It is Velvet's story, but with these brief, sharp looks into the minds of the grownups around her Gaitskill discards the childish illusion of adults being in control. The lack of control felt by the adults in The Mare manifests itself in how they view Velvet. Her mother, who speaks no English, seems to hate her daughter as much as she loves her and Ginger is a wife who bears the slights of being second and never a mother herself. Only Paul, who has his own control issues when it comes to fidelity, seems to see the picture clearly:
 This girl had need, big need. I could feel it under her uncertainty and diffidence. And here was Ginger with her need, looking at Velvet with shining eyes, calling her "princess," and tucking her in at night. It seemed an unstable mix of things, combustible, a promise that could not be kept.
This, coupled with the incongruity of Velvet's turbulent life at home versus her life upstate, is enough to make The Mare compelling but Gaitskill goes beyond that, using prose that shifts and changes with each of the characters. She spans all the linguistic tics of the artsy Ginger, angry Sylvia and conflicted Velvet. These twists of language serve to reinforce the inconsistency of Velvet's life. Her love for this horse and her determination to succeed at riding are in wild contrast to her combative and insolent nature at school. She is abused, she is the abuser, she is unreliable, she is determined.
I didn't find mention of it anywhere but I couldn't help but be struck by another young girl/horse story: National Velvet. The girl in that movie is also named Velvet and trains a damaged horse for competition. The novel's Velvet might be seen as the antithesis of Elizabeth Taylor's bonny beauty, but in some ways The Mare still feels like a modern take on a sugary old story with a Disney ending. The good news is that in cutting the sugar Gaitskill releases the richer flavor of her characters and gives readers a full meal of a novel with depth and bite.
Related Posts