Small Admissions
by
Amy Poeppel
Published by
Atria/Emily Bestler Books
Publication date:
December 27th 2016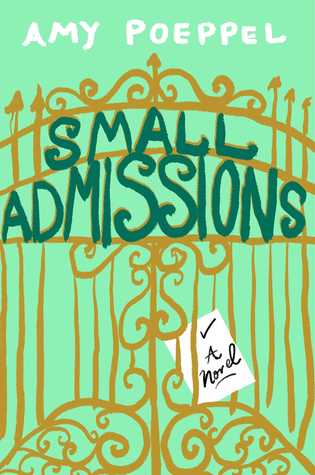 Small Admissions is an example of a book whose writing goes the same way as its plot. Confused? I know, it's weird, but what I mean is that it's the story of a young woman named Kate whose life goes off the rails when she is unceremoniously dumped by a boyfriend. She basically checks out of life in the most stereotypical ways possible, lingering in an almost catatonic state for a year. Then her older sister gets her a job as an assistant admissions director at a private school in Manhattan. Life starts to look up and get interesting. Still with me? Well, the book is the same way. Kate's wallowing over a guy she hardly knew consumes the first half of the book and is a non-starter, but once she gets a life it's as if author Amy Poeppel is herself invigorated and the writing goes from yawn to laugh out loud.
Kate and her friends recently graduated from Wellesley and are making their first forays into the adult world. Poeppel splits the action between their new adult lives and the hyper-competition of private school admissions. Because I don't have children and have no experience with private schools the combination of badly behaved wealthy New Yorkers, their insufferable pre-teen children and Kate's unique interviewing techniques is highly amusing. And while, Kate is the center of Small Admissions Poeppel complements her awkwardness with ditzy academic parents, a busybody sister and the ubiquitous frenemy—all to great effect.
Small Admissions lands firmly in the realm of new adult chick-lit largely because the entire premise of the plot is Kate's break-up with a handsome, loutish, self-absorbed man. It's trope-y and soapy reading, but once past the tedium of the opening premise—that a young woman would give up on life for a year after a relationship that only lasted several months—it moves at a steady pace. It may not be a revelatory look at how parents impose their ambitions on their children or any other lofty theme, but after a start that almost stalled it is fun, light reading.
Related Posts