This doesn't happen very often, OK, never now that I think about it, but this week I have not one, not two, but three 5 star books that make me all evangelical. Only today's is a new release, but beyond that all three cover a diverse range of reading that will bring on the book love!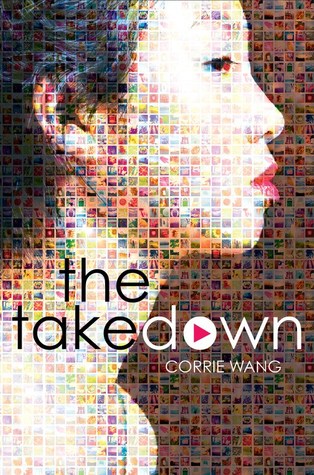 But I did always say there were only two ways to emerge from high school. Scarred or Worshipped.
Probably because of my age, much of what is described in Corrie Wang's YA thriller The Takedown reads like A Clockwork Orange. Set in the near future technology has taken over every aspect of life and privacy is a thing of the past. Not in the Big-Brother-is-watching-you way, but in the big business is capitalizing on your every thought, whim and desire. Like the coat of the woman across from you on the subway? No problem. Just point your Doc (personal holographic device-the next generation smart phone) and the brand information, where to buy it and best prices will come up on your screen. And if you're Kyla Cheng, then you are being photographed and scanned all the time because you're the smartest, hippest, prettiest girl at your prep school. Right up until a video of you having sex with a teacher in a classroom goes viral and your world crashes.
There are many reasons to love The Takedown, but there are two that sealed the deal for me. One, the snarky allusions to future technology (which is both alluring and terrifying). As in, ConnectBook beats out Goog to become the social media app used by 94% of the world's population. Sound familiar? It uses WorldWide Facial Recognition, known as Woofer, meaning anytime a photo is taken and you're in it anywhere (crowd shot etc) it is tagged and attached to your profile- whether or not you knew about it. No permission required. And it's all saved forever in the Cloud. Opting out is not an option because your online profile defines every aspect of your life. Banks, stores, perspective employers all look at it, meaning if you don't have one there must be something very wrong with you. Which is a problem if you're Kyla and getting ready to submit your college applications online AND have a sex video that millions of people have viewed. Wang doesn't stop there: when Kyla goes to submit those applications, they've already been turned in. Turned in—with lame essays, slacker attitude, and, of course, the video attached.
The second reason I loved this book? Kyla Cheng. Wang tips the mean girl stereotype over and presents an uber-girl who freely acknowledges not everyone likes her, is spoiled and loves the material world, but is on track to be class valedictorian, is a champion of the debate team, volunteers, and doesn't drink or do drugs. Her role model is the country's leader, President Malin.
President Malin didn't have her first serious boyfriend until she was twenty-nine and had already won a congressional seat. President Malin didn't get married until she was forty-nine. I had loads of time to date.
In short, she has ambition, determination, high self-esteem and a life plan that has nothing to do with any of the female YA tropes of boys, clothes, make-up, and self-loathing. She's not particularly nice, but who cares? She's honest, but not a bully and if she's quite self-absorbed, what teenager isn't? If she were a boy she'd be praised for all these attributes, which is why I appreciate Wang's choices so much.
If these two perfectly scripted components aren't enough, Wang styles The Takedown with a text-reminiscent font, plenty of emojis, and sets it in the Petri dish of hormones that is high school. All of this, plus the mystery of who hates Kyla so much they want her future destroyed, makes for a tweaked, overstimulated world so subversively gripping that putting down The Takedown is not an option.
Related Posts