Literally Me
by
Julie Houts
Published by
Touchstone
Publication date:
October 24th 2017
Genres:
Debut
,
Essays
,
fashion
,
Humor
,
Non-fiction
,
Pop culture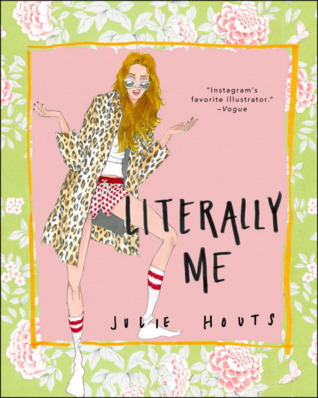 After the heavy reading of Hillbilly Elegy, I needed something light and fun. With nothing at hand, I resorted to my favorite option—wandering the library. Within five minutes I'd found what looked to be perfect, even though I'm trying to move away from being a cover whore (it's a process, all right?). Julie Houts is a well-known illustrator who has worked for Vogue and The Huffington Post and is an Instagram favorite. Now, she decided to take the next step and write and illustrate her own book. The result is Literally Me and it is a wickedly snarky take on all things current and pop culture.
Literally Me opens with the story of one young woman preparing for her wedding, which is eight months away. At first, she seems normal, if a little bit high strung, until this
I was nowhere close to the person I wanted to look like when I married Jared.
That subtle, sly sentence is all you need to know that Houts is going to deep dive into some freaky territory. This girl doesn't care at all about who she is, just how she looks. She winnows her diet to hot water with lemon and lampshade dust, gets tri-weekly colonics right up to the day of the wedding, and has her eyebrows removed and replaced because they were slightly uneven. And that's just for starters.
From there, Houts moves between strictly visual essays, such as what happens when Kylie Jenner loses her ability to 'step out', to fabulous written fantasy about the four horsewomen of the apocalypse…at Coachella. The essays are interspersed with individual drawings of high satiric humor
Bottom line? Some may be offended by Houts and her humor and/or drawings, but I thought Literally Me was marvelous, subversive fun. She is poking fun at the people who swim in the shallow pond of social-media-as-life, but she's self-aware enough to know that she swims there as well. And does so beautifully, using humor to reveal the not-so-pretty truth.
Related Posts