Mrs.
by
Caitlin Macy
Publication date:
February 13th 2018
Genres:
Chick Lit
,
Fiction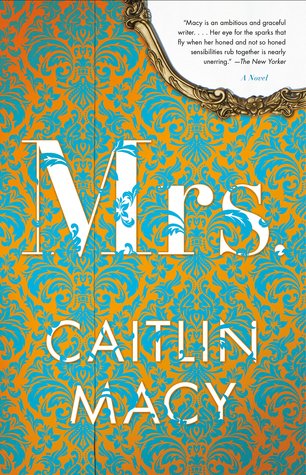 I'm not ashamed to admit that one of my go-to genres is Wealthy People Behaving Badly. There is just something about reading (or watching) people with stupid amounts of money acting foolish and, hopefully, getting caught doing it. It's the small, petty part of my psyche, but I own it. When I read the synopsis for Caitlin Macy's new novel Mrs. I thought I'd struck gold. Something juicy to sink my brain into. The ingredients are there—rich women clustering every day outside their children's private elementary school, gossiping, some richer than others, and secrets all around (almost a trope now that Big, Little Lies blew it up on HBO)—but does Macy bring them together and get the pot to boil in time?
Just as the school is the central location for much of the drama in Mrs., Philippa Lye is the character around whom mystery swirls. Beautiful and aloof, she is the woman all the other women want to acquire as a friend. At the opposite end of the spectrum is Gwen Hogan, a quiet woman who most often gets mistaken for a nanny at pick-up. She has no interest in any of the social scheming but she knows Philippa from their hometown. Her husband, Dan is a U.S. District Attorney, prosecuting financial crimes in Manhattan. He has a vendetta against, John Curtis a hedge fund manager with shady financial dealings who has recently returned to NYC with a new wife and a stepdaughter who gets immediately accepted at St. Timothy's, an unheard-of feat. The circle closes with Philippa's husband, Jed Skinker, who runs his family-founded bank and who soon seems to be in some kind of business arrangement with John.
Macy gives Mrs. a lot of ways to go but the novel doesn't begin to move until the last quarter when the key plot point is revealed. Prior to this, there are plenty of hints about all the main characters, but the overwhelming feeling is one of reserve and ennui. Even when the truth starts to come out, as Gwen and Dan are discussing what is happening around them, they are talking at each other without understanding the other's point. It makes for confusion and the sense that none of these people belong together. It isn't even a case of antagonism or animosity; all the couples interact with the emotion and intimacy of chess pieces. Macy moves them around the board well enough but they are stiff and almost completely devoid of emotion.
Marketing blurbs liken Mrs. to Edith Wharton's masterpiece The House of Mirth, but honestly, that comparison is as overworked as anything suspenseful being called "the next Gone Girl". STOP. IT. How the plot or theme relate to the Wharton novel I couldn't say. The only similarity is in the writing style—cerebral, with the minutia of the characters' lives and very little action, much like many of the classics. If you are a contemporary reader then Mrs. is going to feel like the Sahara, shimmering with the hope of a drama oasis far off in the distance. If you are a reader ready to slow down and willing to wait, Macy writes well in exposing the not-so-pleasant aspects of people with wealth and, ultimately, explodes secrets everywhere.
Related Posts