Turtles All the Way Down
by
John Green
Published by
Dutton Books for Young Readers
Publication date:
October 10th 2017
Genres:
Fiction
,
Young Adult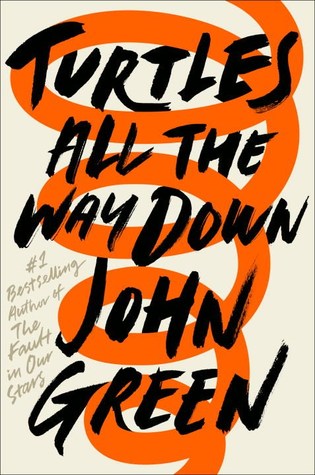 Turtles All the Way Down is my first experience with John Green and it left me mostly with…nothing. On the one hand, I applaud him for writing such an unsympathetic character, but on the other, I didn't want to read about her. Her is Aza, a teenager with severe OCD. She has a loving and supportive mother, a good psychiatrist, and a drug that helps her—when she feels like taking it. Dealing with her mental health is enough to fill the novel but Green chooses to add a billionaire entrepreneur who leaves his two sons in the middle of the night because he is about to be indicted and a lizard-like creature that supposedly holds the secret to eternal life.
But I also had a life, a normal-ish life, which continued. For hours or days, the thoughts would leave me be, and I could remember something my mother told me once: Your now is not your forever.
I was part of a group discussion about Turtles that included a high school librarian. She raved about the book and said so did every student who read it. This is when it clicked for me. Unlike, other YA fiction I've read, namely The Hate U Give  and The Boy in the Striped Pajamas, this is truly YA for a teen audience. Too much of the novel veers between a vanilla blandness and incongruous plot lines in a way that is hard for adults to engage in.
Green's deep dive into the world of OCD is well-done, but the rest of the novel feels disjointed. He wasn't able to able to move Aza from the place of 'other'—someone completely foreign and unknown—to a place that invites understanding. If you have teenagers this may be a great novel for seeing mental health issues up close, but as an adult it left me disinterested.
Related Posts