Summer is fun and light and for a lot of people, me included, my reading turns the same way. I want thrillers, chick-lit, humor. But just like anything else in life, too much of the same thing, even when it's good, can make me cranky. Or just a bit manic. Fast reading=hyper brain and that's not a good look on me. So, this feature will be for reading that is the antithesis of fast and plot driven. The kind of reading where it's the sentences that matter. If you're ready to slow down, settle into a hammock or comfy chair on the porch, settle into characters and their thoughts, then one of them might be right for you.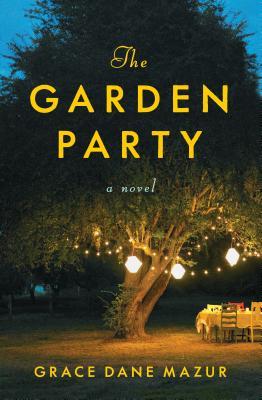 The Garden Party
by
Grace Dane Mazur
Published by
Random House
Publication date:
July 10, 2018
Genres:
Book Clubs
,
Fiction
,
Literary

There are few occasions more awkward then bringing new in-laws together to meet for the first time. For many, this may not occur until days before the wedding but, sometimes, as in The Garden Party, it's the night before, at the rehearsal dinner. Adam and Eliza are getting married and this feels more stressful to them than the wedding itself. Mostly because their families reside in opposite poles on the globe of human nature. His family, the Cohens, are artistic wanderers, who see life as journey where doing is not as important as being, where thinking about doing can be a goal. The Barlows are aggressive doers, immediately apparent by the fact that they are all lawyers. ALL. LAWYERS. From her father, and mother right down to her three brothers. Only she and her twin brother, Harry, have gone against the family grain—she's studying to be a veterinarian and he's a pastor. They all come together at the Cohen's house for a meal of mishaps, intrigue, miscommunication and varying degrees of confusion.
The Garden Party is a picture in contrasts. Pindar, Adam's father, is a man so gentle he's combed the garden for exactly the right flowers for the table, pairing them up by their traditional meanings to send an unspoken message about love to the guests. Eliza's father, on the other hand, goes so far as to ask Pindar if Adam chose to be a poet because there is something wrong with him. But, rudeness aside, author Grace Dane Mazur isn't interested in simple generalizations about good and bad people. She is gentle in her depiction of all the layers in both families. The Cohens take quirky into territory that is panicky and decidedly odd, just as the Barlows have a primal need for organized games as familial bonding.
The novel is a character study, taking place in one afternoon and evening. The only action is the flow between the guests, to which we have seats right at the table, thanks to Mazur. She shepherds couples together and apart, guides conversations to places they might not have gone to on another night, and lets us revel in the escape of the families' children to a nearby pond—evoking memories of being faced with unutterably dull adult events.
He was glad that they had all has the sense to slide away from the grown-ups, although he liked his aunt Lizzie and the man she was marrying. It was clear, though, that the asparagus would go on forever. He had lost hope of any other food.
It is these kinds of tiny gestures, expressions, and hidden conversations that both contrast and bind together the Barlows and the Cohens. I was especially touched by the two elders in the families, who, despite being in their nineties, provide the humor and a sweet flirtation.
One caveat (and it may just be the advance electronic copy of the book I had), most of the sentences begin with a verb, which can be quite disconcerting when it happens repeatedly. It gives a very choppy, jumpy feel to what is otherwise languid reading. Beyond that, Mazur is beautifully adept at playing with words without letting them take control, making The Garden Party a lovely, tender, and hopeful novel.
Related Posts