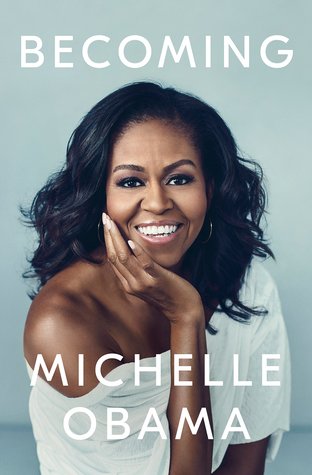 Leave it to Michelle Obama, an untested writer, to achieve something that has never happened in my reading history. I finished her memoir, Becoming, on January 15th and had no hesitation in ranking it 5 stars. This makes it not only the first time I've found a 5-star book in January, but the only time my first 5-star rating of the year has been given to nonfiction. I just don't read that much nonfiction—maybe 4 books a year, so the odds are stacked against it. Now, I know this is not a statistic that Michelle is going to see, much less put on her list of achievements, but for me it is huge. And for anyone reading my blog, it should also go a long way to recommending this book.
Michelle breaks her life down into segments that correspond with "becoming" and each is eminently relatable. For me, it is her journey as a goal-oriented woman, striving and wanting to be taken seriously, but often diminished and overlooked. Her challenge was even greater because even more roadblocks were thrown in her way because of her race. She doesn't waste time bemoaning the fact, just shares how it felt and how she pushed past it. She does the same thing with the often-vicious words used against her and Barack once they were in the public eye.
It's important to note that despite the fact Michelle is best known for her role in the political world, this is not a political memoir. It's about her life, her marriage, her career, motherhood. All aspects of her life I knew nothing about and that she shares with a down-to-earth attitude and a welcome dose of humor. And even though Becoming goes through the 2016 election, it's not a tell-all or a counterpoint to everything that occurred before or after the election. She is a reasonable, articulate woman of integrity—she states her opinion and the facts, leaving it to the reader to decide what they think.
Becoming presents a dilemma for readers: do you read the print version because there are photos or do you listen to the audiobook because Michelle narrates it? I went with the audio, even though it is a full 19 hours. That's a lot of dedicated listening time—especially if you got it from the library where there's a hold list of hundreds of people (yes!) and you can't renew it. The reason I did this is that it gave me 19 hours of listening to a voice and a life that reminded me of a time when the biggest drama in the White House was President Obama wearing a tan suit. No corruption, no scandal, just grace, humor, and dignity.
Related Posts