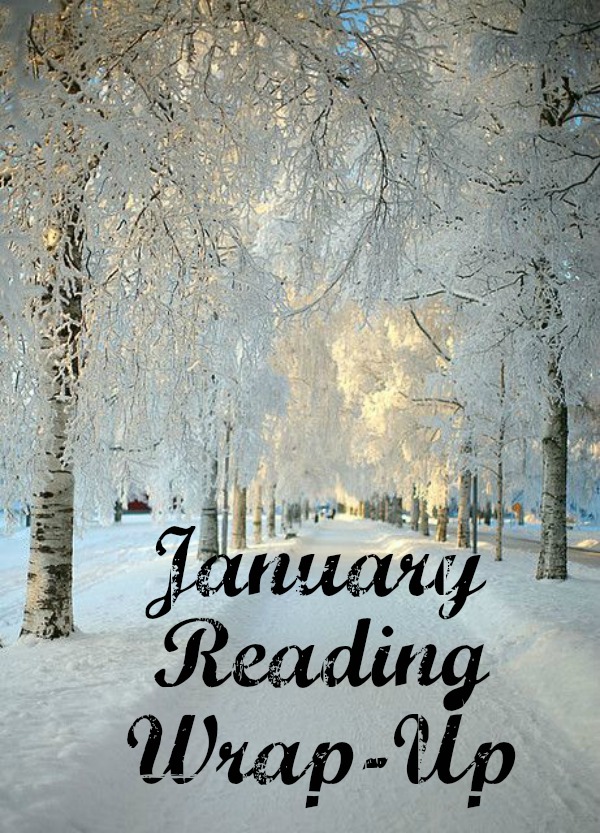 I feel as if "wrap-up" is the appropriate word both for my January reading and for everyone who is shivering in the Midwest and Northeast. I'm happily ensconced in Seattle with 40 degrees and sunshine, but cringe looking at the weather station, knowing that this time next year I'll huddled inside in Ann Arbor, cursing the cold.
Let's try and forget the weather and talk books! I had a decent reading month, finishing 15 books and DNFing (not finishing) 3. The genres I read were all over the place (literally) and even included nonfiction (woo hoo!). Let's take a look:
The Splendor Before the Dark (Nero, #2)
by
Margaret George
Published by
Berkley Pub Group
Publication date:
November 6, 2018
Bookshop
,
Amazon
I love Margaret George's take on great historical figures. Her first novel about Emperor Nero as a young man was enticing enough that I wanted to know what happened next. The Splendor Before the Dark is the sequel, beginning the night of the great fire that burned most of Rome to the ground. Should lead to lots of excitement, right? Not really. Nero was not a good ruler—he was a spoiled man-child who cared more about acting and racing chariots than he did about governing. He also had no concept of money and spent without thought of the budget. But was he the worst ruler Rome ever had? Balancing the fact and the fiction of Nero's reign is George's goal in this novel and she does a good job of refuting some of the more outlandish claims about him. The only problem—it's boring and long.
Death is Hard Work by Khaled Khalifa: Review to follow
Becoming by Michelle Obama: My first 5-star book of the year! My review
Instastyle: Curate Your Life, Create Stunning Photos, and Elevate Your Instagram Influence
by
Tessa Barton
Published by
Alpha Books
Publication date:
October 23, 2018

Bookshop
,
Amazon
For a lot of us Instagram is a part of life. Whether you're a blogger or have your own business, posting photos or stories that enhance your brand and attract followers/clients/members is critical. I have an account, but find the entire process of taking great photos, captioning them, adding the right hashtags, etc. exhausting. Enter, Instastyle by Tessa Braden, which I hoped would walk me through the basics and help make using the app easier and more rewarding.
Ha. I should have known better. Don't get me wrong, this is a visually beautiful book, but it is not for newbies. Even more annoyingly, it's not even for anyone who takes Instagram photos with their phone. I mean, hello?!! Isn't this an app for "instant" photos? Apparently not. Tessa runs her site with the help of her photographer husband and two different kinds of photo editing software. What?! I guess I was completely naïve, but let me clue you in. Whether it's the group that calls themselves #bookstagrammers or anyone else with a hefty following, they are very likely what used to be known as stylists. They gather props, arrange objects, use special lighting, and, most importantly, use a real camera—chock full of all kinds of options for taking magazine worthy photos. They get sponsors who pay them to advertise product.
In short, this is a great book if you have a lot of money and time to devote to Instagram. I don't, so it was a quick read and I still find creating Stories to be annoyingly difficult.
Sugar Run by Mesha Maren: Review to follow
The Dreamers by Karen Walker: My review
The Falconer by Dana Czapnik: Review to follow
That Churchill Woman
by
Stephanie Barron
Published by
Ballantine Books
Publication date:
January 29, 2019

Bookshop
,
Amazon
That Churchill Woman is historical fiction about Winston Churchill's mother, Jennie Jerome. Set in the early 1900s it chronicles her life with Randolph Churchill as she entertains royalty and rules British society herself. Jennie refused to be constrained by the mores of her times. She had what we would now consider a 'modern' marriage. Both she and Randolph lived that way and for good reason. However, by the end of the book it's clear that Jennie Churchill was not just a bored society wife. She was deeply involved in politics and Randolph's career, worked with him on all his speeches, and was an accomplished equestrienne. If she had lived in a time when a working wife was possible, who knows what she might have accomplished?
Unfortunately, author Stephanie Barron feels the need to use italics to place emphasis on whatever word in thought, dialogue, or description she thinks is important. It starts off as disconcerting, but ultimately makes me obstinately determined to ignore those words. It's a bit like being rapped on the knuckles for not paying attention, which is hard to take seriously when reading what is historical chick-lit. The fact that it's based on the truth doesn't make Churchill's life anything more than a sin and scandal-soaked opera.
I know that sounds really judge-y, but understand, I don't mean it in a bad way. Aside from the italics (which were incredibly annoying) That Churchill Woman was a sin and scandal-soaked delight. Jennie knew how to get around. Barron delves into all the dirt in her life and that of her husband, Randolph, who had big secrets of his own. What she also does, that I appreciate even in my lighter reading, is write the details. I know people get bored by descriptions of fabric, dress and interior designs, but I don't. I love it. If you do too, then this novel qualifies as a great distraction.
Great Reading from Previous Years
Sharing the love for backlist books that I thought were outstanding!
January 2015:
January 2014:
Also, in case you missed it I was lucky enough to be a guest on a great new bookish podcast.

Sarah's Book Shelves Live

is a fun way to get new reading ideas in all genres and hear all kinds of bookish conversation. You can find it on iTunes, Overcast, anywhere you get your podcasts. (click on image below for link to my episode)
Related Posts