Oh boy, my month of mood-reading thriller-mania continues! Earlier in the month I shared my creepy December reading. Today's version is going to be super specific: women who leave behind diaries. Somehow, two of the suspense novels I read this month have a main character who narrates through their writing. And yes, that does mean they're no longer active in the plot except for backstory, but that's not a spoiler. Their unspoken presence is what make both of these novels so strong.
The Silent Patient by Alex Michaelides
Published by Celadon Books
Publication date: February 5, 2019



Bookshop, Amazon
A London It-couple, Alicia and Gabriel, seem to have it all. She's a famous painter and he an in-demand fashion photographer. What could go so wrong that one night she is found standing next to his body, having shot him five times in the face? Whatever it was, Alicia won't say. In fact, even after being found guilty and committed to a psychiatric hospital she still doesn't talk. She is the woman who is The Silent Patient, Alex Michaelides new thriller.
Theo Faber is a criminal psychotherapist who views healing Alicia as the pinnacle of his career. Even though six years have passed and she's never said a word he believes he can work with her. He's studied her past and her crime almost obsessively. When he is hired at the hospital where she's being held he immediately angles to be her therapist.
Theo is the only present-day narrator. Everything we know of Alicia, leading up to the day Gabriel died, we learn through her diary. This could fall flat on the tension scale, but Michaelides layers in details about everyone around the two, bringing to light enough clues and twists to keep the book at a low simmer. There was only one aspect of this novel that didn't add up for me, but it's totally possible that I missed a link. Other than that, I even liked the ending because it's not the norm anymore.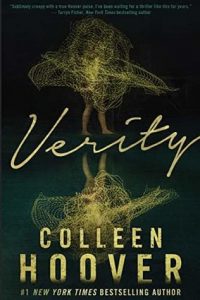 Verity by Colleen Hoover
Publication date: December 7, 2018



Bookshop, Amazon
I've seen buzz about Colleen Hoover's Verity all over Facebook, Instagram, all the social media. It's not a new book, but every time someone else reads it they post looking for others to weigh in on what they thought about it. Now, having read it I can see why. Hoover takes an almost taboo subject and puts it front and center of the novel. Which is all I'm going to say about that, because honestly, the less you know about the plot the more shocking it is.
The novel begins when Lowen, a stalled writer on the edge of homelessness is rescued by a fantastic offer. Verity Crawford is the wildly successful author of a series of books. She's been in an accident and is unable to write so her husband hires Lowen to write the last two novels in the series. Even better, she would need to move into the Crawford home for a time to go through Verity's notes and research. In doing so, she comes across a manuscript Verity was writing for an autobiography. She also finds herself with feelings for Verity's husband.
Plot-o-plenty in this novel. Hoover is very good at what she does so the pieces come together and the tension builds seamlessly. It's what's in the manuscript that tips the scale into crazy—in the best way for fiction readers. It's the kind of thing where you're simultaneously thinking, "Oh no, I should not be enjoying this so much" and not being able to put down the book. It's compulsive reading and, if the ending falls a bit flat, it doesn't take away from the rest of the ride. This is a one-afternoon-guilty-pleasure novel.
That's about it for my month of creepy reading! Did I miss something you think I need to read?
I hope you all had a merry Christmas and that you're still relaxing, preferably with a good book!
This post contains affiliate links which means if you click on a link and make a purchase, I get a small commission (at no cost to you!).
Related Posts