Hello, lovely readers! Everyone still managing to hold onto at least a semblance of their sanity? Mine is questionable so I'll stick to my reading today. You may already know this, but in case you don't: I get advance copies of books I request from publishers in exchange for my review. It's a wonderful thing, but while it is like being a kid in a candy store for a book lover, there are expectations. One, I review the book. Two, that I review it close to the date it comes out so readers will go buy it if I like it.
These leads me to today's problem. Sometimes, the stars align and multiple authors I like release books at the same time. Usually, I can handle it, but when the authors are Jodi Picoult and Ken Follett, you're taking about over 1,500 pages of reading for two books!! Sigh. I'll spare you the suspense…I saving the 900-page Follett novel for next month when I will want to be eyes down in a book ALL month.
Currently Reading
Jodi Picoult almost always works for me with her brain candy style of fiction. By that I mean, I'm entertained, but I usually learn something as well. At the very least, she presents a perspective that forces me to see a different point-of-view.
The Book of Two Ways is her latest and it's also the name of a funeral text used by the ancient Egyptians. Dawn is an Egyptologist who post-doc studies are interrupted by her mother's death. Her life splits from its original path at that point and goes down a different one of marriage, a child, and another career. Later, a disaster allows her to revisit her choice and decide which is the life she was really meant to live.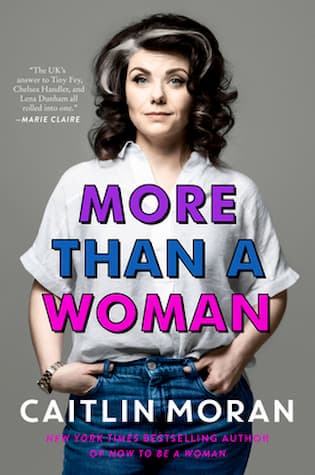 I love Caitlin Moran for her fiction (How to Build a Girl) so when I saw she had a new book of essays out, called More Than A Woman, I knew it would be welcome nonfiction reading. She's still forthright and funny, especially as she tackles midlife. I'm almost thinking I want to get this on audio because she's Irish and I bet it's fabulous listening.
Up Next
Homeland Elegies is a blend of fiction and nonfiction about America right now, from the perspective of a Pakistani father and his American-born son. The author is a Pulitzer Prize winning playwright so I'm expecting this to be an erudite novel about the tinderbox that is America post 9/11.
I listen to audiobooks while I'm driving or getting my cardio in so I try to keep them as far removed from the current world as possible (which is why I've put listening to political podcasts on hold). Ali Wong is a raunchy comedian who makes me laugh so when I saw her book, Dear Girls was available I decided it would be next on my listening list. Apparently, this is a letter to her daughters so may be more of a blend of tender humor rather than her outrageous comedy.
That's it for me. What are you reading this week? 
Related Posts