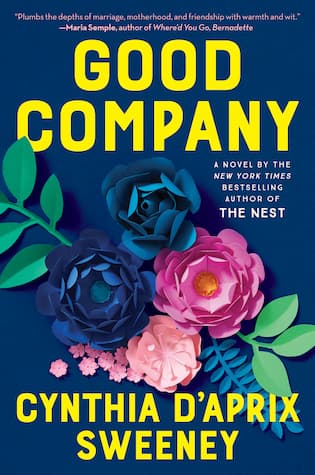 A happily married woman discovers her husband's engraved wedding band in an envelope buried in a filing cabinet. Fifteen years ago, he told he lost it. Now, it's the night of their daughter Ruby's high school graduation and Flora sets aside her emotions to attend a party for Ruby, given by Flora's oldest and best friend, Margot. After that, she'll deal with what feels to be the destruction of her marriage. As small as a ring is it's big enough to prise the lids off all of life's key relationships in Cynthia D'Aprix Sweeney new novel, Good Company.
Flora, her husband Julian, and Margot all exist in the world of theater. It's how they bonded, but as time passed, the realities of making a living took over. Flora is the singer, made for musical-theater, but is now the voice of the main character in an animated TV show. Julian is her incredibly handsome, leading man, husband who's finally been made a regular on a TV cop show. The saddest exchange is Margot, the most talented of them all, who left the stage to become a doctor on a soap opera. A lucrative job that brought her international fame and financial security, but still feels like a loss. Along the way, she met David, the kind, quiet pediatric heart surgeon who became her husband. In one of those unlikely, but happy twists, an enduring friendship was forged among all four of them, even after Ruby was born.
From the inauspicious, lost-ring beginning, Good Company moves backwards through Margot and Flora's early days meeting in NYC, becoming friends desperate to throw off their hourly wage jobs and make it in the theater world.  Sweeney keeps it simple, alternating chapters from the past between the two with the intermittent present-day perspective of Julian and Ruby. In this way, lives unfold and the story is told.
Often, when reviewing a book, the plot, its cohesion and resolution, are distinctly important, but when a novel really resonates with me, plot or story arc take a backseat. That's the case with Good Company.  Despite the strong hook, the novel is one of characters. Through Flora, Margot, Ruby, and even some of the ancillary characters Sweeney writes an insightful look at life, from the time of young love, ambition, and dreams to the quieter acceptance of middle-age. The emotions in the novel are often raw. The questions raised, real. How to parse long-ago betrayal with decades of happiness? Is everything negated?
How to decide if her life—as she'd always thought—had been a series of carefully considered choices or, in the light of this new information, a series of unfair accommodations?
This observation and the many like it in the novel cast a glow, that, even when painful, warms Good Company.
Want to read more Sweeney? Her debut, The Nest, is a lighter novel of wealthy people behaving badly.
This post contains affiliate links which means if you click on a link and make a purchase, I get a small commission (at no cost to you).
*I received a free copy of this book from Ecco publishers in exchange for an honest review.*
Related Posts