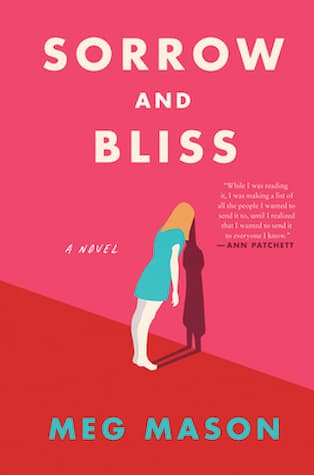 Sorrow and Bliss opens after Martha and her husband Patrick have returned from a party he threw for her 40th birthday. It did not go well and two days later Patrick says he's leaving. It's both an ending and a beginning for Martha as she grapples with what to do next in a life that often feels like too much to bear.
When she's 17 Martha is suddenly under such physical, emotional, and mental distress that she shuts down, unable to leave her bedroom. This first episode is followed by others, and by doctors with prescriptions and limited success. On the surface she lives a facsimile of a normal life—job, place to live, and even marriage, but underneath she's grappling with a level of misdiagnosed mental illness that makes life a torment for her and difficult for everyone who's close to her. Patrick's leaving is final confirmation that every bad thing Martha believes about herself and life is true.
This may sound like a psychological dirge of a novel, but Sorrow and Bliss shape shifts between genres, refusing to land squarely in any one place. Martha is sharp, creative, and intelligent, her humor like a dry martini—bracingly refreshing. This humor resonates throughout the novel, especially in her relationship with her younger sister, Ingrid. The snark, the inside jokes, the intimacy is a pleasure to read, even when the two are in the midst of fighting.
Ingrid says she always had bitch-like tendencies but it was me who really brought them out.
Author Meg Mason rounds out a varied cast with an annoying aunt, a gentle father, an artist-slash-mother, and the almost saintly Patrick. All there for Martha whether she wants them or not and each with their own quirks and failings. I loved the way they were all brought together and appreciated the fact that Mason could address a serious topic with such wit and grace. Sorrow and Bliss is exactly what the reader gets from this gem.
This post contains affiliate links which means if you click on a link and make a purchase, I get a small commission (at no cost to you).
Related Posts