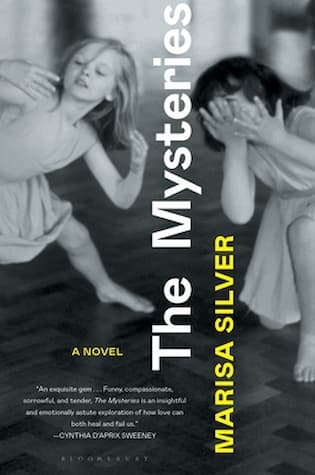 Set in the early 1970s The Mysteries by Marisa Silver is about Margaret Ann (Miggy), the only child of Julian and Jean Brenneman. They married in their early 20s so he could avoid the Vietnam War draft and Miggy was born when Jean ran out of birth control pills. Not necessarily an auspicious beginning for a marriage or having children, but they've settled into their own version of family, one that seems to work until the moment that changes everything.
Jean and Julian headed blindly into the adventure of marriage and parenthood, but with a unique belief in the past—Julian now owns his father's failing hardware store and they live in his parents' old house—combined with a determination to raise their daughter for the future. There is no baby talk, body parts are named properly, and anything approximating the patriarchy's view of women (read: Barbie) is not allowed. This freedom gives Miggy a strong sense of identity that, without impulse control, can veer into out-of-control. What are rocks for? Throwing, of course. Her mother's most common refrain is, "Who are YOU?!" as Miggy bounces, breaks, and shoves her way through life. Her fearlessness and alpha energy leave her with no friends until she meets Ellen, a quiet girl, happy to follow along. They click, as Ellen's quiet soothes Miggy's noise.
Silver also uses The Mysteries to delve into the inner lives of the novel's four adults at a turbulent time in history. Vietnam was a tinderbox, the economy tanking, gas was being rationed. Julian and Joan want to live in a liberated life, but Julian is confronting the loss of his business and Jean, loves her daughter, but is not sure she loves being a mother. Celeste, Ellen's mother, has just given birth to her second child and can't seem to rally or care for the infant. Her husband Michael is a simple man, in awe of his beautiful, elusive wife and his sweet step-daughter, but never quite certain of where he fits in.
As an adult who was a child in the 70s some of this (gas lines) is familiar, but it's Silver's expression of both the willful Miggy and the tentative Ellen that brings back memories. On the lighter side, Ellen plays with a Chrissy doll which made me laugh because I had one as well. My younger brother dismissed it by saying, "Big deal. You punch her in the stomach and she pukes hair."—something only understandable if you were a little girl at the time.
On a deeper level, it's the myriad of feelings The Mysteries evokes stayed with me. Miggy
…bursts with the desire to move, to speak, to sing, because there is So Much. There is So Much all the time that even if she could spread her arms wider than the universe, she still could not hold it all.
There are ballet classes, recess, grownups—all the things that are magical and frustrating, but at the novel's midpoint, all irrevocably change in an instant. The infinite becomes finite and a layer of spirit is gone. This aspect is so replete with emotion that it can't help but flatten the novel's ending. I was a little disappointed, but overall The Mysteries is a quiet, tender novel I happily recommend.
Backlist Beauty: Another novel about childhood that I loved is Joanna Cannon's The Trouble with Goats and Sheep.
This post contains affiliate links which means if you click on a link and make a purchase, I get a small commission (at no cost to you).
*I received a free copy of this book from Bloomsbury Publishing in exchange for an honest review.*
Related Posts