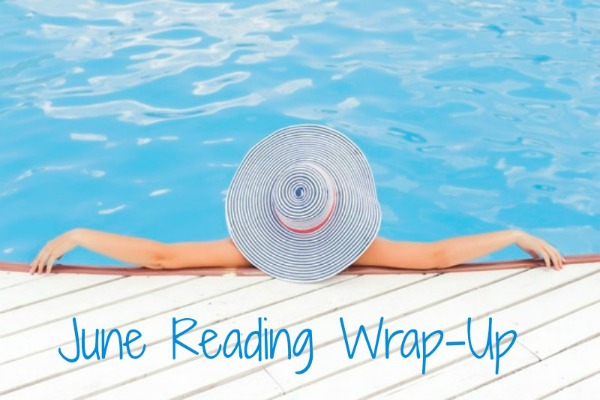 What an odd month June has turned out to be. Partly summer and partly more spring with lots and lots of rain—the kind we usually get in April and May. We traveled at the beginning of the month so that felt weird and then I hit a hard reading slump that was only cured by true crime nonfiction. Here are the highs and lows.
I'll Be There for You: The One about Friends by Kelsey Miller
Published by Hanover Square Press
Publication date: October 23, 2018
Genres: Debut, Fiction, Contemporary



Bookshop, Amazon
I wasn't a real-time fan of Friends but did fall prey to it at some point in its numerous rerun rotations. It was a cultural phenomenon as part of NBC's Must Watch TV Thursdays (remember when shows only aired once so you had to be home to watch?) I'll Be There For You is another audiobook in what's becoming a reliable genre for me—behind-the-scenes TV histories. This was as fun as the show itself. The way casting played out, how the actors changed the game for ensemble casts, and all the gossipy bits I always enjoy. Great listening when you want to stay upbeat.
The Secret Keeper of Jaipur by Alka Joshi: My review
Dear Miss Metropolitan by Carolyn Ferrell: Review to follow
The Michigan Murders by Edward Keyes, Mardi Jo Link, Laura James
Published by UNIVERSITY OF MICHIGAN REGIONAL
Publication date: September 2, 2010

Sometimes true crime is the only kind of nonfiction I can read (talk to my therapist) so with my June reading slump I was interested to find Michigan Murders about a series of 1960s murders in Ann Arbor. So interested that I didn't pay attention to when the book was published: 1976. The story is riveting, but the writing is drek. Rather than a serious, reporting style this book is written in a breathless style with multiple exclamation points per paragraph and more adjectives per page than a romance novel. Hard pass.
Nowhere Girl by Cheryl Diamond: A memoir of one woman's childhood spent on the run. Addictive. Review to follow
The Search for the Green River Killer by Tomas Guillen: More true crime, this time set in the PNW. The only thing more disturbing than the murders is how difficult he was for the police to catch.
Seven Days in June by Tia Williams
Published by Grand Central Publishing
Publication date: June 1, 2021
Genres: Debut, Fiction, Contemporary



Bookshop, Amazon
Chick lit is usually as close as I get to romance as a genre, but several people I trust recommended Seven Days in June, despite its romance label. The story is about two Black authors—the very public Eva who writes erotica and the reclusive Shane who writes literary fiction. They knew each other, quite well, for a week in high school, but things ended badly for both and they've been out of touch for almost 20 years. Now, Eva, a single mother and the newly sober Shane are thrown together again. The chemistry is there, but Eva has more to protect now and is hesitant.
Seven Days in June does follow the traditional romance formula: boy meets girl, boy loses girl, etc, but goes beyond with its rich depiction of contemporary life and a great supporting cast. I particularly loved Eva's daughter, Audre. I could have done with less bottom lip biting, sideways glances, slivers of skin, and tendrils of hair, but none of it was enough to keep me from enjoying this great story that was more than romance.
The Housewives by Brian Moylan: Fun reading about the Real Housewives franchise. My review
God Spare the Girls by Kelsey McKinney: Great debut novels about the daughters of a Texas megachurch pastor. My review
The Brittanys by Brittany Ackerman
Published by Vintage
Publication date: June 15, 2021
DNF

The Brittanys reads like a teen girl's diary, which may or may not have been the author's intention. Feels like a dry recitation of facts—we went to the beach, I put barrettes in my hair, we decided we wanted to try pot. In some cases, it works to relay the angsty nature of being fourteen, but in others it's a turn-off to anyone who's already survived those years. I had no sense of where this novel was going and so gave up.
That's it for this month. How about you? How's your summer going so far?
This post contains affiliate links which means if you click on a link and make a purchase, I get a small commission (at no cost to you).
*I received a free copy of this book from Vintage Books in exchange for an honest review.*
Related Posts