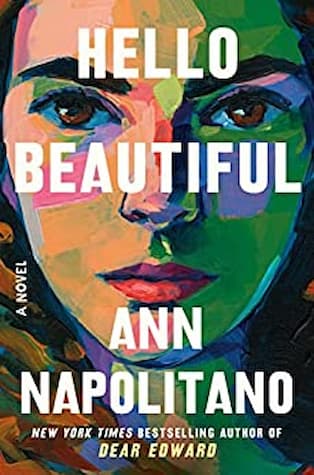 William has known life with only one love, basketball. Due to a family tragedy when he was born his parents refused him love or any kind of interaction beyond his physical needs. Discovering a place where he's accepted is the only lifeline he has to normalcy. His basketball talent leads to a scholarship to Northwestern where he meets Julia.  Her attention changes his life, not just because it's a novelty, but because he is equally embraced by the rest of her family, including her three sisters. Hello Beautiful is Anne Napolitano's warm, vibrant novel of family, mistakes, and forgiveness.
Julia is the oldest of the four and is the Padavano family's linchpin. Self-confident, determined, and energetic she is the planner and fixer for all her sisters. She is closest to Sylvie who is the moon to Julia's sun. She loves books and has no interest in the traditional paths of love, marriage, babies. For her there is no path, just a world waiting to be experienced. Cecelia and Emeline are twins and the family's babies. Cecelia is an artist while Emeline is a homebody, happiest when she's babysitting in the neighborhood or taking care of the family.
Into this noisy, emotional world comes William, a young man so damaged by his parents' refusal to love him, he finds the family's affection almost unfathomable. Coupled with the gravitational pull of Julia's love and her certainty about their future together he falls into their orbit, until events overwhelm him. His actions, in the depths of his pain, destroy the force holding the family together, leaving the sisters as scattered and far apart as the night stars.
This summary feels inadequate for a novel so expansive. In Hello Beautiful. Sylvie, Cecelia, and Emeline are flush with life, first appearing on the page in their teens but becoming women, each with her own foibles and flaws. They thrive, stretching into what are the roots of the novel—the abiding love between the sisters. Against their growth and vitality Julia is more difficult to understand. She and her mother, Rose, are brittle figurines, stamped from a mold and kiln fired. They are a jarring anomaly in the midst of the rest of the family's textures and layers.  While her sisters expand, Julia stagnates as one of the most self-absorbed, judgmental, and uncaring characters I've ever read. Acutely aware of every wrong done to her, but with no interest in owning up to her mistakes.
Sadly, a part of me became as closed off to Julia as she was to everyone around her. Napolitano uses a "defiance of centuries of misogyny" to explain her actions. I'm always on board for smashing the patriarchy, but as it relates to the situation in Hello Beautiful it's misapplied. I'm treading carefully here not to reveal too much of the plot, but the circumstances involve mental health. There's no call for sacrifice, no gender role issues. All that's asked for is compassion and Julia is unable to even consider it. It's antithetical in the midst of a story so overflowing with generosity and love.
Despite this roadblock, Napolitano's writing is such that there is no turning away from Hello Beautiful. Julia is one character in the midst of a circle of friends, lovers, sisters, children, and parents so abundant in their realness they saturate the page with life.  They may be average people amongst everyday occurrences, but Napolitano's prose lends them an extraordinary richness and a wealth of insight and beauty that makes Hello Beautiful a treasure.
If you're in the mood for more tight-knit family sagas The Most Fun We've Ever Had by Claire Lombardo is marvelous.
This post contains affiliate links which means if you click on a link and make a purchase, I get a small commission (at no cost to you).
*I received a free copy of this book from The Dial Press in exchange for an honest review.*
Related Posts