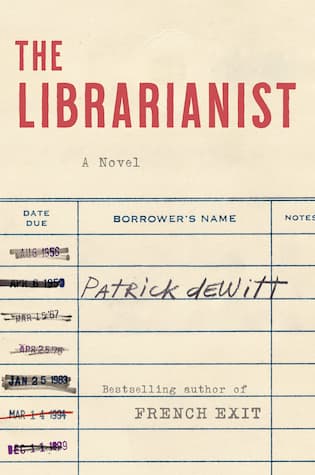 Bob Comet has lived a quiet life, immersed in his one great love: books. A voracious reader he became a librarian, sharing that love with the patrons he helped. Now, in his early 70s, retired, but still living in the house he grew up in in Portland, Oregon he wants to share the joy of books again in Patrick deWitt's quirky new novel, The Librarianist.
It's the inadvertent discovery of a local senior's residence center that reawakens Bob's belief that a good book is the best solution to most of life's problems, including the loneliness of aging and being left behind. The sight of people sitting doing nothing or watching mindless TV seems needlessly cruel when so many worlds waited inside a book. With this simple premise, The Librarianist introduces Bob and the reader to the eccentrics among the residents and staff at the Center.
For the most part the novel doesn't stray far from Bob's volunteer efforts at the Center with only a brief foray into his past until just past the midpoint when deWitt drops in a tidbit of information that detonates Bob's carefully calibrated life. But before his response is shared, the budding attachment with all of The Librarianist's characters is snipped and a new timeline grafted in place. Suddenly, Bob is 11 years of age and has run away from home. He strikes up a friendship with two elderly eccentric sisters and journeys with them from Portland to the coast. The novel is completely bifurcated for reasons that remain unclear—there's no significant emotion attached to the trip and he's brought home after four days.
The novel resumes in the present day, but the impact of the news Bob received is lost. I was invested in his response and what would happen next so to be yanked away and thrown onto memory lane to meander for several chapters was disconcerting. This digression and whatever it signified to deWitt did not make the same impression on me. I skimmed these events aware I might be missing something important, but wanting only to return to the now.
Which leaves me conflicted. I loved The Librarianist for deWitt's ascerbic voice and dissection of one unassuming man's life and the outsize personalities he's encounters, but rather than seeing that through, it's interrupted for unknown reasons. What was a charming character study written with dry martini wit is left stuck unsuccessfully between two worlds.
This post contains affiliate links which means if you click on a link and make a purchase of any kind, I get a small commission (at no cost to you).
Related Posts