The Never List
by
Koethi Zan
Published by
Pamela Dorman Books
Publication date:
July 16th 2013
Genres:
Debut
,
Fiction
,
Suspense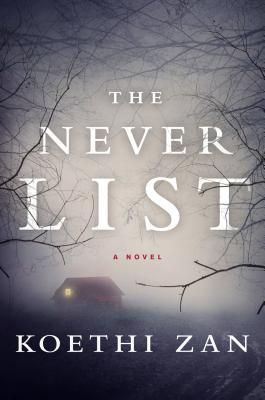 The Never List is the debut novel from Koethi Zan. It is also the name of the list best friends Jennifer and Sarah keep after they are in an accident where Jennifer's mother is killed. Their obsession with what can go wrong in the world, and how to prevent it, fills notebooks and follows them to college. No walking home from bars or parties, no riding with strangers, no getting in cabs. They only use a car service they have researched. They are protected, or so they think, until someone arrives for their pick-up and spirits them off to a world of captivity and torture.
After being drugged, Sarah awakens to find herself chained by the ankle to a basement wall. She is naked as are the two other girls there with her. Jennifer is nowhere to be found but there is a large wooden box standing in a corner of the room. One of the other girls indicates that Jennifer is in there and while she is sorry about it, it has saved her from being put in the box. So begins three years of horror for Sarah. She never again hears Jennifer's voice, only sees her, with a black hood over her head being led in and out of the box. These scenes are played back in bits and pieces from the present day of Sarah's life. By mixing the horror of the past with the present it melds the two, allowing the reader to see that the prison Sarah lives in ten years later is mentally more confining than her captor's basement. He took her life then and he is still taking it from her all-white apartment in a doorman building where she orders in all her food and seldom even opens the windows. Her guilt over her inability to save Jennifer's life haunts her to the present day.
Despite being in prison, absent the proof of murder (a body), the abductor, Jack Derber, is up for parole and the FBI detective in charge of the case has asked the three surviving girls to testify. Sarah cautiously agrees but when she receives a letter from Derber, she believes it contains a secret message that will lead her to Jennifer's body and allow her to give her dearest friend the peace in death that she could not give her in life. Despite her overwhelming fear, she journeys back to the city of the crime and enlists the help of the other victims to solve this final mystery.
Zan is a master of manipulation in The Never List and writes with the confidence of a seasoned thriller author. Rather than resort to scene after scene of gruesome violence, she uses emotion to wreak havoc on the reader. From the moment the girls realize this is not their car service Zan's prose infuses the reader with a dread so pervasive it clings even after the last page. There is no need for graphic detail, the reader's imagination of what is happening or about to happen fills in the blanks. And yet, no matter how far the mind goes, there is greater mystery ahead.
In the same way that dread saturates the novel, there is an element of guilt amongst the women that creates even more tension. While they are clearly victims, they have secrets; some so difficult they've been repressed. These secrets, along with the very real threat of their abductor being released, all come together to push each woman to the edge of her hard-won sanity.The Never List is a novel that sits in the sweet spot for lovers of thrillers—abject terror and an overwhelming urge to keep reading.
The Never List may be purchased at:
Related Posts