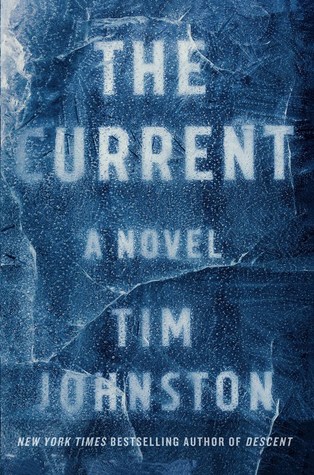 What begins as a novel about a car going into a frigid river and only one of the occupants making it out alive turns into a multi-layered story about a small Minnesota town and how the past doesn't always stay in the past. Audrey is the girl who survives the crash that killed her friend, but she is still faced with seeing her father in his final days as he's dying of cancer. A former sheriff in town, he takes with him the guilt over not solving the case of Holly Burke, another young girl who died in the same river ten years ago. Tim Johnston's new novel, The Current, ripples out in ever widening circles of impact as the new accident reignites interest in the old case. Soon old wounds are reopened and everyone in town is pulled under by grief and guilt.
On Monday I wrote about Johnston's debut, Descent, a novel that epitomized slow-burn tension. I had to keep reading because I had to know what happened. This didn't happen with The Current. Instead, I found little tension. The initial premise of a car being forced off the road and into a river is discarded as the past crime takes over. That's fine, but Holly's murder doesn't have enough suspense to propel the novel. This is compounded by Johnston's movement between past and present—which is slippery and uneven with many of the segues between the two timelines being made within the same paragraph. (After finishing the book, I compared the Kindle version I had (an advance copy) with a friend's print version and entire chapter designations are ignored and turned into one long paragraph.) Unfortunately, this negatively impacted my perception of the novel but shouldn't be as much of a problem in the finished version.
Formatting and pacing aside, there is no doubt Johnston can write characters. The Current reminded me of Kent Haruf—lean prose about small town life, mistakes made, evil hidden. Johnston does a marvelous job immersing the reader in his world, but the novel loses me as a mystery/thriller. Yes, there's a mystery, but it didn't feel like the center of novel. If you're itching for suspense and drama, The Current is not likely to satisfy as much as a traditional thriller. But if you want a dark-ish novel that dives deep with beautiful, simple observations about life then The Current will sweep you away.
Whatever you called it there was a current and you were in it always and you couldn't bury it.
Related Posts