A Spool of Blue Thread

by Anne Tyler
Published by Bond Street Books
Publication date: February 10th 2015
Genres: Fiction, Historical, Literary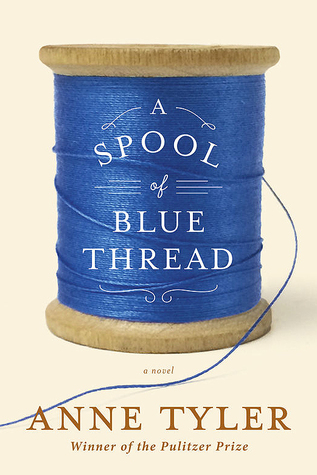 A Spool of Blue Thread is Anne Tyler's newest novel. It is broken into four parts, three of which are about the present day lives of the Whitshanks and two are about previous generations. Initially, Tyler's exploration is what we expect from a writer who has always been attuned to the rhythms of family life. There is Red and Abby, and their four children, Amanda, Jeannie, Denny, and Doug. With gentle pacing and a gift for illuminating the flaws and foibles that make each family unique Tyler shares the outer and inner lives of this Baltimore family who live in the home Red's grandfather built and carry on his in legacy in his construction company. For Red, it's as simple as
"Houses need humans…You all should know that. Oh, sure, humans cause wear and tear—scuffed floors and stopped up toilets and such—but nothing compared to what happens when a house is left on its own. It's like the heart goes out of it. It sags, it slumps, it starts to lean towards the ground."
Two of his children follow him into the business but it the youngest son, Denny, who provides the counterpoint to the familial unity as the odd one, the child who can never be pinned down. He doesn't stay in touch, no idea of his personal life and even at the later stages when he moves in there is no sense of his presence as being one that can be counted on.
A Spool of Blue Thread left me perplexed. The first two parts of the novel are a gentle stroll through family life, a genially paced novel that speaks to the solidity and fragility of family. It is not all hearts and flowers but as Tyler explores the intricacies of family life she does so with a style of acceptance for the oddities of the individual.  It isn't until part three—the story of Red's parents, Linnie and Junior, where things get sour and cold.
It echoed the pattern of their lives together—all the secrets he had kept from her despite his desire to tell. She would never know how deeply he had longed to free himself all these years, how he had stayed with her only because he knew she would be lost otherwise, how onerous it had been to go on and on, day after day, setting right what he had done wrong.
Their truth is dark and the stroll becomes a shuffle. From there even when the novel switches back to the present day it is with a more jaded eye, not something I associate with Tyler. This change in tone makes the novel feel bifurcated. This may also be due to the fact that it closes with Denny, the perennially unreliable, mysterious, disruptive Denny. There comes a point in a character's life where inscrutable needs to have some kind of meaning or they have no purpose and in Denny, Tyler never reveals anything deeper about him, leaving me without anything to hold onto. A Spool of Blue Thread is layered and filled with Tyler's beautiful prose but its beginning and end are bifurcated in a way that leaves two unmatched pieces.
Related Posts