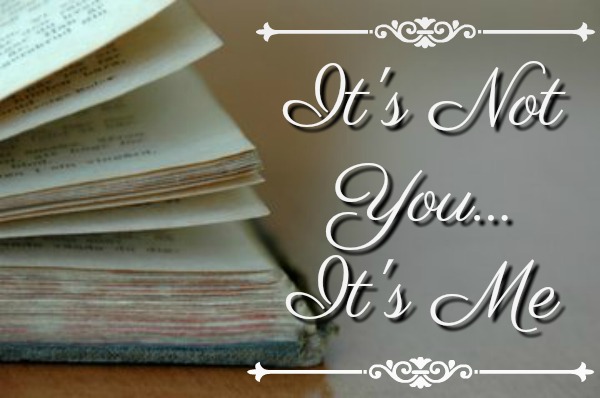 These days it seems it's harder and harder to get anyone to agree on anything so why should books be any different? What is different is that we're nicer people so sometimes I'm able to admit—It's Not You, It's Me when I don't like a book. In this case, one book left me puzzled and emotionless and the other was a case of timing—American dystopia feels like non-fiction these days so reading it is a bad choice on my part.
Eden by Andrea Kleine
Published by Houghton Mifflin Harcourt
Publication date: July 10, 2018

It's possible there is subtext to Eden that I missed, but when the novel ended I was left with a feeling of 'Really?'. I'm not sure what author Andrea Kleine was trying to achieve with this story about two sisters, Hope and Eden, who were kidnapped when they were teens. They escaped from their kidnapper after a week, but their lives were never the same. Eden went to a boarding school, graduated early, and went to live on a commune. After that she disappeared. The novel is set in the present with Hope, as a flailing playwright, setting off to find Eden.
I've come to believe that, in fiction at least, the people looking for a missing person, are more messed up than the person who disappeared. The searcher tends to have a lot of psychological baggage and this plays out in an aimless life, failed relationships, and no security. This is certainly true in Eden and was compounded by an ending that brought no real resolution. Kleine only alludes to what happened to Hope and eden, which is fine. I don't need graphic details, but she does so in a way that makes it seem as if it was no big deal, nothing with lasting impact. Except that Hope is clearly lost. It felt coy and robbed the novel of the emotion needed to sustain interest. In order for me to stay engaged in novels like this the journey and the searcher have to have some kind of meaning. A great example of this is The Given World, a debut novel about a young woman trying to find her brother when he doesn't return from the Vietnam War. Powerful characters and story.
An Ocean of Minutes
by
Thea Lim
Published by
Touchstone
Publication date:
July 10, 2018
An Ocean of Minutes by Thea Lim is a post-apocalyptic, dystopian novel that takes place in…the past. Which was one of things that made this book difficult for me. A flu pandemic hits the U.S. in 1981 so Polly signs up for a time travel assignment that is supposed to take her to 1993—at which point a cure would be in place. She does this because her boyfriend Frank has the flu and by agreeing to work for the Texan corporation who created the time machine they will give him treatment in the present to save his life. Of course, it goes terribly wrong and she lands in 1998, five years after she was supposed to meet up with Frank again. At this point, the dystopia goes into overdrive in that the world in 1998 is a nightmare that no longer feels implausible in 2018. Which is just plain confusing, because we've already gone far past 1998.
All this is to say, if you love science fiction and time travel, give this a shot. For me, it was confusing and the society Polly finds herself in was depressing as hell. Which is a compliment to Lim. Without a lot of sci-fi bells and whistles she creates an atmosphere that brushes right up against reality. Think the present-day, but covered in a sticky grey sludge that smells horrible and can't be washed off.
Related Posts