All the Light We Cannot See
by
Anthony Doerr
Published by
Scribner
Publication date:
May 6th 2014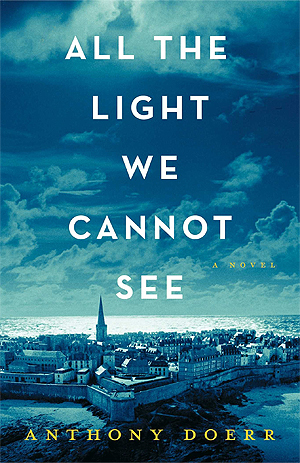 I may be writing this review to watch myself write because virtually every reader I know has already read Anthony Doerr's All the Light We Cannot See. Ostensibly, my excuse is, this Pulitzer Prize winning novel originally published in 2014 is being re-released in paperback. But really? WHY did it take me this long to read this wonder of a novel? I have no decent reason. It was not a backlash against the hype, but more likely too many other reading commitments and then I forgot. Mea culpa. Needless to say, I get it now and regret every minute I wasted not knowing this beautiful book.
A quick synopsis: All the Light We Cannot See is the story of Marie-Laure, a French girl who goes blind when she is six; Werner, a German orphan with a gift for mathematics and technology; World War II, and, even, a famed diamond that is said to be cursed, kept in a French museum. If the diamond part sounds improbable or off-putting, it's not. The novel follows all of these elements from 1934 to the liberation of France in 1944 and moves from Essen, Germany to the ancient French city of Saint-Malo. Doerr builds the novel in brief chapters that transect the lives of Marie-Laure, Werner and those around them. Rather than a fragmented sense, these chapters give a feeling of careful layering and provide the white space needed to process the scope of the turmoil on the pages.
Marie-Laure's father Daniel is the locksmith for the museum and uses his skill at creating keys and locks to make ingenious miniature puzzle boxes as gifts for his daughter. Doerr constructs All the Light We Cannot See with the same intricacy and precision as Daniel's boxes. From the outside it is simply a book: pages and a cover. Lovely, but just another book. It's not even a complex mechanism—the only key needed is to open it and turn the pages, but doing so unlocks a vast world, every minute detail exquisitely rendered, perfectly populated with tender pain, heartfelt loss, joy, striving, and all the mysteries of the human heart. It is as flawless as the gem at the novel's center.
Related Posts