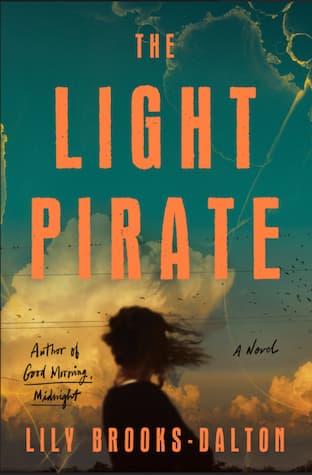 Frida's baby isn't due for another month, but as Wanda, a Cat 4 hurricane, bears down on the family's home in a small Florida town she decides to make her entrance to the world. To mark the event Frida names her Wanda, hoping the storm's power and strength will manifest in her daughter. What she can't know is the full impact the hurricane will have on all their lives. The Light Pirate is a mesmerizing coming-of-age story about one little girl in a time and place where nature is determined to assert her dominance over man.
Hurricane Wanda leaves behind wreckage that goes far beyond structural damage. Wanda grows up in an environment that is both unwelcoming and viscerally comforting. At school, she is shunned as a bad omen, tied irrevocably to the hurricane that left Rudder a town even more diminished than it was. But at home, in the woods, the swamps, or what's left of the beach, she thrives. Her father, Kirby, is a lineman for the local utility company and sees firsthand that, not just his town, but all of Florida is falling into disrepair as the storms keep coming. He won't leave. This is his place, his responsibility. Father and daughter watch as years pass and the water continues to encroach, cities are evacuated, and residents permanently resettled in other states.
Author Lily Brooks-Dalton neatly divides The Light Pirate into four parts: Power, Water, Light, Time. In this way, the novel slides ahead to future decades, moving relentlessly forward as the world that was is slowly lost to water and becomes a new world altogether. Wanda is left to navigate these changes with her shrinking family and the help of Phyllis, a former professor and survivalist who's built her home and planned her life for this eventuality.
Like many things in life creativity exists on a spectrum. When a plot is as rich in details as that of The Light Pirate, it will be compelling even in the clumsiest of hands. To turn those elements into a living, breathing world is an extraordinary gift, one that goes beyond skill to a visceral level. Through Brooks-Dalton The Light Pirate is less of a book and more of an experience. The damp heat makes your scalp itch, rain pelts hard enough to bruise, the despair of losing a way of life grinds, fear and grief churn. She intersperses nature as a character, majestic and caring not at all for the human race and its hubris. In doing so, The Light Pirate becomes a horror novel, not for its death toll or gore, but for the implacability of nature and what is to come. If you'd prefer not to think about the future or are peculiarly attached to Florida this will be upsetting reading. If you're open to an astonishing story, masterfully crafted with remarkable intelligence then read it now.
If you like climate fiction packed with action, try The Displacements by Bruce Holsinger.
This post contains affiliate links which means if you click on a link and make a purchase, I get a small commission (at no cost to you).
Related Posts