The Transition
Publication date:
January 9th 2018
Genres:
Book Clubs
,
Contemporary
,
Debut
,
Fiction
,
Literary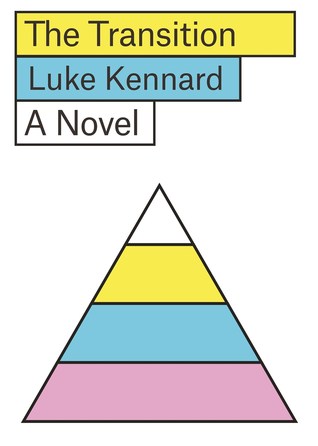 What if you had broken the law and rather than being sent to prison you could opt into a program that would make you a better person? The upside is it's not prison, you get to keep your job, you have no living expenses, and when you're finished after six months you'll be provided with a down payment on a new home and will be on your way to personal and profession success. The downside? You have to move out of your home, move in with an older couple who will be your mentors, and follow all of their rules or be kicked out. How bad could it be and even if it's bad wouldn't anything be better than prison? The program is called The Transition which is also the title of this intriguing debut novel from Luke Kennard.
It's an unspecified time in the future in England and Karl has been found guilty of fraud and tax evasion. He and his wife, Genevieve, are in their early thirties and try as they might, adulthood isn't panning out as they hoped. Mostly for Karl. His English Lit degree has not led to a literary career, unless you count writing fake, for-pay, consumer reviews and personalized essays for university students with more money than ethics. The lack of a steady income on Karl's part means that for the last two years he been running a personalized Ponzi scheme, using one credit card to pay off another to the tune of 17 cards and a mountain of debt.  He doesn't see any of this as problematic; he is just scamming the system in the way he feels he's been scammed. Aside from not questioning how they could afford their lifestyle Genevieve is innocent, but the Transition stipulates that unless she divorce Karl she must participate as well, so the two find themselves moving in with Stu and Janna, a successful, 40-something couple.
Not surprisingly, Karl does not go into the Transition with an open mind. He is reluctant, skeptical and still not convinced that he's really done anything wrong. The rules chafe because they are not just about repayment of the debt, they are specifically designed to make Karl and Genevieve better people, real adults. There are mandatory meetings and things like reading and discussing the newspaper every day are required in order to become an engaged citizen. The feeling is very much like moving back home with Mummy and Daddy and yet Stu and Janna get that and are reasonably low key. Genevieve quickly adapts and even decides that maybe a job within the company that runs the Transition program would be more fulfilling. For Karl things do not go so smoothly and cracks begin to appear in their marriage. Nothing is as it seems and the more Karl digs the worse it gets, but why doesn't anyone else see it? 
In case you're wondering, The Transition is not a horror novel—no one ends up strapped to a gurney in the basement having their brain sucked out or being turned into a zombie. Instead, it's the very realistic depiction of how such a rehabilitative program might work—younger people learning from the experiences of their elders in a safe environment—that lures the reader in, until enough odd details and responses make you question what you're reading. Even then Kennard keeps the novel's dramatic peak smaller and personal rather than a massive explosion of tragedy. In doing so, he produces an eerie, futuristic satire with just enough of contemporary life problems to make it sound familiar, but with a positively terrifying larger theme.
I received this book for free from the publisher in exchange for an honest review. This does not affect my opinion of the book or the content of my review.
Related Posts