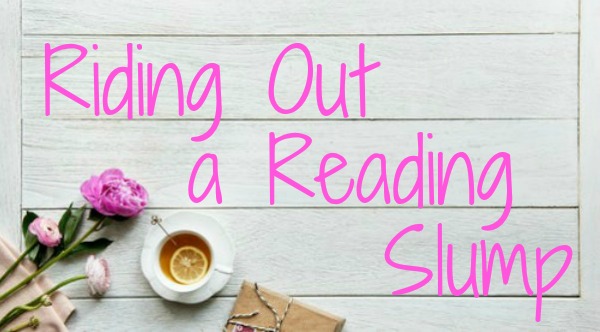 A new week and I'm stuck riding out a reading slump. I'm caught in a perfect storm of not reading for two reasons. One, I have a book hangover after finishing the amazing Where the Crawdads Sing. If you're not familiar with this phenomenon, it's when you read something so immersive and well-written that your brain rejects any other book until it has completely recovered. Every new book falls short and exacerbates the pain of having finished something so intoxicating.   Two, the August heat is leaving me too sluggish to focus on any serious reading.
All of which means I'm riding out this slump with other forms of reading and entertainment.
Listening to
I love podcasts. They're the easiest way to make time pass while on the treadmill, cleaning, or driving. These four are my go-to favorites because they cover all the bases I need covered.
The hosts of this podcast, Jamie and Knox, freely admit that everything they're going to discuss is of no importance in the grand scheme of life. And that's what makes them the best listening. They dish all the gossip and goings-on in every segment of the pop culture world and are damn funny doing it.
John Dickerson, Emily Bazelon, and David Plotz are my best resource for a reasoned understanding of what's happening in politics right now. Yes, they lean left of center, but they're not dogmatic and don't hesitate to disagree with people in either party. They don't waste a lot of time on the toxic noise from this president, but stay focused on actions. I leave every episode feeling like I've learned something and while I may still be angry it's based on facts and not emotion.
Tom and Lorenzo are two fabulous gays who make me laugh and give me all the inside scoop on fashion in pop culture. They review shows I love like RuPaul's Drag Race, Pose, and Project Runway with details only someone who's been in fashion could know. By talking about current events from a style perspective they let me pretend I'm still in the fashion world and not sitting around in sweatpants and a tee shirt.
Tara Brach is a psychologist, Buddhist, and meditation teacher living in Virginia. The podcast covers topics like depression, living in the present, and self-acceptance, all with an eye towards healing and spiritual awakening. Some episodes are specific guided meditations and are wonderfully calming. Her voice is soothing and reassuring, with just a hint of humor. I listen to her while I do my stretching after workouts, but really need to start making her guided meditations part of my daily routine.  They're a much needed antidote to the rest of the world and a great way to let go and reset.
Watching
13 Reasons Why (Netlfix): In case you'd forgotten just how dreadful high school could be, this show will remind you. A teenage girl kills herself, leaving behind 13 tapes each addressing one person who played some part in her unhappiness.
I have two more episodes to go in the current season, but am already preparing myself for the fact that the rich, athletic, white boy, rapist is not to going to be brought to justice. Which means I'll be back for the next season because I want this smug brute castrated.
Victoria & Abdul (HBO): In her later years Queen Victoria befriended an Indian man, bestowing on him favors and titles that shocked and angered everyone around her. Judi Dench is as marvelous as always and even when the story stretches credulity, it is actually true.
Grace and Frankie (Netflix): Two women in longterm marriages discover their husbands have been in love with each other for the past twenty years. They're coming out of the closet, leaving their wives to completely reassess their lives in their 70s. I just started season 2 and while some of the situations are a bit over-the-top it is by-and-large fun to watch.
If for no other reason, then watch this for Jane Fonda and Lily Tomlin. They are divine. And I know it's superficial to say, but they also look beyond amazing. Seriously, Jane Fonda has got to have a hideous portrait hidden in an attic somewhere that is aging while she still looks dewy.
Reading
Just because I can't stick with a book right now doesn't mean I'm not reading. I often find magazines fit the bill during a slump. Maybe because they only require short bursts of attention?
(article title links to actual article)
The Crack Squad of Librarians Who Track Down Half-Forgotten Books (Atlas Obscura): an unwieldy title, but this article warms my librarian heart.
The Fight for Their Lives (Marie Claire): Interviews with some of the girls from Parkland High School and life in the aftermath of the shooting. From a hopeless situation, they became activists and they're not going away. They give me hope for our country.
In Conversation with Kathleen Turner (Vulture): She was one of the most popular actresses in the 80s and then she seemed to disappear. This is interview is wonderful and reminded me how she was never afraid to speak her mind.
The 11 Best Wireless Headphones for Working Out (Women's Health): Do you work out? Do you have wireless headphones you love? Please let me know what they are because I'm getting tired of untangling my earbuds every time I pull them out of my pocket. I want new ones but find most brands don't stay put and there's no way to test a pair before you buy them!
The Daughters' Great Escape (Marie Claire): Having read The Book of Essie  recently I was intrigued when I saw this article. By the time I was done reading I was completely freaked out. Stay-at-home daughters is a very real belief in a growing portion of the Christian conservative population. It's faith-based oppression of women at its finest.
What do you do when reading a book just won't work? How do you ride out book hangovers or reading slumps?
Related Posts