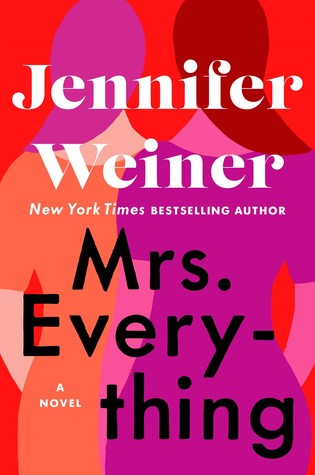 It's the 1950s and tradition reigns in America. For the most part the Kaufmans fit in. Except for Jo, who's more interested in sports and playing with the daughter of their maid, both of which cause her mother no end of aggravation. Her younger sister Bethie was their mother's favorite—pretty, popular, and destined either to marry well or be a star. For Jo, it's her father who is her rock but when he dies all of their lives are upended. Jo and Bethie are at the center of Jennifer Weiner's new novel, Mrs. Everything. Through these girls, as they grow to be women,  Weiner encapsulates the sea change of women's identities from the 50s until now.
The upheaval of the decades leading up to a new century make the perfect backdrop for the way Jo and Bethie's lives spin away from tradition and into unexplored territory. There are the lifelong repercussions for Bethie after she is molested by an uncle and spirals into binge eating until discovering the new diet shakes that came out in the 60s. She swings between self-blame and loathing and falls further while trying to recapture the princess she thought she was. Her rock bottom comes at a time when Jo has gone through her own metamorphosis, that of owning her sexuality, of finally accepting she doesn't like men and never will. She suffers a betrayal from a woman she loves and that, coupled with her sister's need, sends her life in a direction she never wanted, but now feels she has to accept.
Resignation, Jo thought. That was what it was, the feeling of knowing this was it for her…There would be no escape, no second act. Just this.
An expansive novel, Weiner still manages to make Mrs. Everything feel intimate. So much of Jo and Beth is relatable—sibling rivalry, layered with the aging process, the confusion and dreams of youth giving way to the realities of middle age—it's all in there. Which is the only quibble I have with the novel. There is a bit of a Forrest Gump vibe, a feeling of ticking zeitgeist boxes. Child molestation, civil rights, Vietnam War? Check. Motherhood, eating disorders, drug abuse? Check. It's not a negative, because the stories are engaging, but it gives Mrs. Everything the feel of trying to be everything for everyone. Which may show that even Weiner is not immune to this insidious and age-old attitude towards womanhood. Setting that aside, this is deeply human story of family, growing up, letting go, and coming back together.
Related Posts