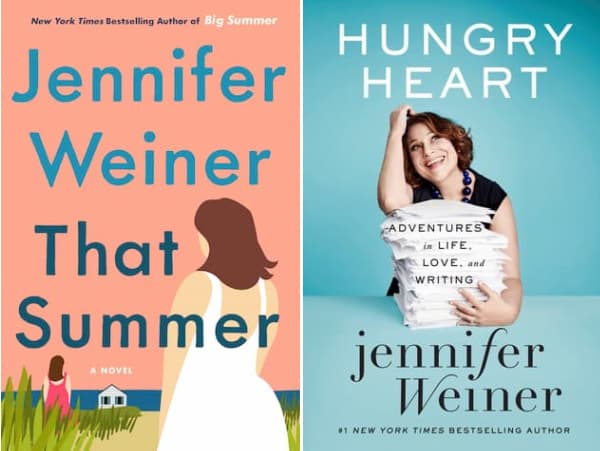 Daisy Shoemaker lives one of those perfect-on-paper lives. She has her own small successful cooking business, her marriage and life are comfortable, and she has a reasonable relationship with her teenage daughter, Beatrice. All good until Jennifer Weiner scratches the surface and removes the shine in her new novel That Summer.
The cracks start to show when Daisy and her husband are called to Bea's private school because she's been caught defacing school property. Bea's expelled, much to her husband's fury. Fury isn't great, but at least it's some emotion. For a while now, Daisy's felt as if they're living separate lives and she's lonely. It feels like perfect timing then when Daisy starts getting email for a woman whose name is similar to hers. They meet in NYC and a friendship forms as Daisy is entranced with Diana's glamorous, single life as a consultant and Diana is drawn to her sunny nature.
That Summer is split between the two women and we slowly learn that Diana's life is not all that it seems. When she was 15 and working in Cape Cod she was raped, the psychological scars derailing her for years. She's gotten her life back to a good place, but the large scale sexual assault events of 2018 have her ready to confront her past, to finally heal.
Weiner is skilled at homing in on contemporary issues in American life and writing about them without the heaviness found in literary fiction or nonfiction. She's not breaking new ground, but that's all right. There's a place for all three genres. Her focus is on relatability and to that end, she explores all sides of an issue, weaves a tight-knit plot, and wraps it up in a satisfying, but not too neat bow. This is steady, light fiction reading of the kind that doesn't demand effort from the reader, but provides easy enjoyment.
Hungry Heart: Adventures in Life, Love, and Writing by Jennifer Weiner
Published by Atria Books
Publication date: October 11, 2016
Genres: Non-fiction, Memoir

Bookshop, Amazon
I've read and enjoyed Jennifer Weiner's fiction for years, but knew nothing about her personal life. After listening to her memoir, Hungry Heart: Adventures in Love, Life, and Writing, I'm comfortable saying it's as engaging as her fiction. She chronicles her life from childhood until present day in essays that reflect her personal struggles—broken family, economic instability, self-esteem issues, toxic father—with her determination to be become a writer. I admire this so much as it's the only goal she's ever had and she's achieved it and then some. In addition to her fiction she's a contributor to the New York Times.
At the same time, it hasn't come without cost. Weiner's fight for self-acceptance and confidence has made her a feminist who doesn't take being shunted aside, talked over, or diminished lightly. She's dealt with shaming on all levels: for her body, her writing, her politics, her parenting. That she handles it all with humor makes this a wonderful memoir. It also makes Weiner relatable, like one of those women you'd love to meet in real life
This post contains affiliate links which means if you click on a link and make a purchase, I get a small commission (at no cost to you).
*I received a free copy of this book from Atria Books in exchange for an honest review.*
Related Posts