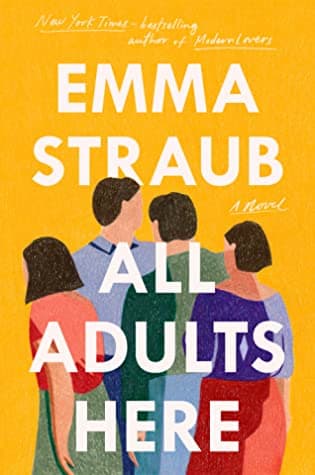 Astrid Strick is in downtown Clapham where she's lived for most of her life, when she witnesses a school bus hitting and killing a woman she knows. A tragic death like this could be the focus of most novels, but instead it is the pebble in the pond that creates the widening ripples of life in All Adults Here. We don't learn much more about Barbara, the dead woman, but she unlocks an old memory in Astrid's mind that challenges her belief in herself as a mother. This, plus the arrival of her 13-year-old granddaughter, all work to shake up a life Astrid had thought settled long ago.
Astrid and her take on the world reminded me of Olive Kitteridge, maybe Olive-light. She's not an out-and-out curmudgeon, but she is not a warm and fuzzy person. Her husband has been dead for over 40 years. She is regimented, carefully parceling out her emotions in a way that some might find cold. This would include her children. Her oldest, Elliot, lives nearby with his wife and 2-year-old terror twins. Her daughter, Porter, also lives there and runs a dairy, making goat cheese that's sold around the country. The youngest, Nicky left home when he turned 18 and hasn't returned in years. It's his daughter, Cecelia, who has come to stay with Astrid.
Despite living in Clapham, Astrid is not close with either Porter or Elliot. If she were, they'd know she was seeing her hair stylist, Birdie, and she'd know that Porter was pregnant and that Elliot had purchased one of the biggest vacant building in town and was likely going to lease it to a national chain—something that will set him against most of the town and definitely his mother. She might also know why Nicky was sending her granddaughter to live with her for the year.
This is Emma Straub's fourth book and while I've enjoyed the others to some degree or another, in All Adults Here, she hits her stride as a writer. This is a fully realized story of a family, with each member carefully articulated in all the baffling, unsettling, idiosyncratic behavior of real people. Everyone in in the novel has a voice, exposing the reader to a range of experience—some of which will feel painfully familiar and some that will be utterly foreign.
There may not be a lot of action, but I felt so much reading All Adults Here. The love and caring Straub feels for these characters, and even for the town of Clapham itself, gives the novel an authenticity that resonates off the page. That the novel is infused with a wry humor makes it even better. It all comes together to make for reading that is deeply engaging and rewarding. All Adults Here gave me the kind of reading I didn't know I needed and I'm grateful.
Want something similar, but available at the library without a wait? Commonwealth is another wonderful family drama.
This post contains affiliate links which means if you click on a link and make a purchase, I get a small commission (at no cost to you).
Related Posts