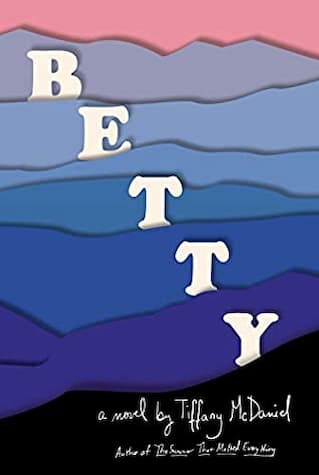 A biracial little girl is the main character and the namesake in Tiffany McDaniel's shattering novel, Betty. Born in 1954 and raised in Appalachian Ohio, the novel follows her and her five siblings, a Cherokee father, and White mother as their lives are acid-etched with racism from the outside  and tragedy from within.
The South of the 1950s and 1960s was not known for its tolerance. Betty most resembles her Cherokee father, Landon, so takes the brunt of the schoolyard racism, just as her father takes it in the real world. The family's life is one of flight and poverty as Landon tries to find and keep a job. When they finally land in the small town of Breathed, Ohio it's to a decrepit house on the edge of town with lots of land. Land Landon uses to plant a massive garden and woods where he takes Betty to find plants for the tinctures, teas, and decoctions he makes and sells.
It's this world of nature and her relationship with her father that keeps Betty from being a novel of unremitting sorrow. Still, there is a great deal of it to absorb as abuse and damage flow down from one generation to the next. In this case, it's Alka, Betty's mother, who from the time she was a young girl, was both a witness to and a victim of her father's violence and perversity. She's broken in ways that can't be repaired and passes it down to all her daughters, subjecting them to her depression, suicide attempts, and endless reminders that they have nothing to look forward to in life.
The melancholic details in Betty are offset by the light in McDaniel's atmospheric writing. Despite the prevalence of trauma throughout the novel, there is sunshine and joy as well. The love between siblings, the creativity nurtured in children without toys and TV. The simplicity of nature.
We shared one imagination then. One pure beautiful thought. That we were important. And that anything was possible.
This gift is transmitted largely through Landon, a man of the earth and a healer, who instills his children with a respect for the natural world. He's not perfect, but the unconditional, abiding love he has for his children is. He inoculates Betty with a deep-seated belief that she, like her ancestors, is a warrior. This credo is in stark contrast to everything Betty sees around her—women of all ages, used, torn up, discarded, angry. When she can, she makes a different choice.
There are too many enemies in life to be one of yourself. So when I turned seventeen, an age that gives one the permission to light the flame of new passions, I decided to refuse hate's ambition.
This cycle of pain makes for difficult reading at many points, but Betty feels like a story that must be told and a labor of love. Which may be the case, as McDaniel acknowledges the novel is based on her mother's life. Pain takes up the lion's share of the novel, but it's the flame of Betty's ferocious, infectious spirit that burns brightest, carrying her through the darkness.
This post contains affiliate links which means if you click on a link and make a purchase, I get a small commission (at no cost to you).
Related Posts