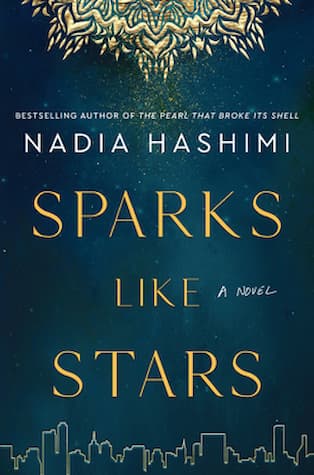 When Sitara is 10 years old her life is flipped upside down. She goes from being the beloved only daughter of a high-ranking Afghan advisor to the country's president to an orphan on the run. It's 1982 and Communist backed forces stage a military coup in Nadia Hashimi's new novel, Sparks Like Stars. Sitara's family is killed in front of her, but she manages to hide from the soldiers. Months later, through elaborate planning, she reaches safety in America. She closes off the Afghan part of her life and grows up to be a successful surgeon. Until, someone from her past reappears, sending her back to her homeland for answers.
Much of the tension and drama in Sparks Like Stars is in the beginning and flows naturally from the grief and confusion of a protected child who is left with no one after witnessing the murder of her parents. Even then, when she's taken in by an American woman who works at the embassy in Kabul, there is still the question of survival and getting out of Afghanistan to safety. It's only after arriving in America that events jump from childhood to Sitara as an adult. Professionally, she's successful, but personally she's walled off. Even to the woman who raised her she seldom opens up.
This closed off feeling is one that pervades Sparks Like Stars. It's one thing to portray a character as remote within the story, but a needed sense of connection is lost if they're not even open to the reader. Most of the novel's action takes place in present day America, but feels empty. There are several side stories that contribute little to the novel as a whole.
I've loved Hashimi's previous novels for their in-depth exploration of Afghan women. This time not only does Sitara remain largely unknown, but so does another key character who had the potential to add a great deal of depth to the political and personal aspects of the novel.  Instead, it felt as if there was a lot of great story left on the table in an effort to make Sparks Like Stars more commercial and appealing to Western readers. For some this will work, but it left me disappointed.
If you're interested in reading strong fiction about women set in Afghanistan I highly recommend Hashimi's The Pearl that Broke Its Shell.
This post contains affiliate links which means if you click on a link and make a purchase, I get a small commission (at no cost to you).
Related Posts