My apologies, I've been remiss this year. Here it is the middle of September and I haven't shared anything about the books of fall I want to read. Quite honestly, I'm still struggling with my vision. The cataract surgery in my right eye did not go as expected. The cataract is gone, but so is any kind of near vision. As in reading phones, iPads, books, items in stores, jigsaw puzzles, knitting…all the minutiae that constitute a normal day for this retiree. I'm having to adjust to contact lenses in both eyes (because my right eye is now far sighted—no explanation for that yet) as well as reading glasses. I miss the simple days of putting on my glasses in the morning and being able to see clearly throughout the day. Now everything is a visual negotiation.
But enough grousing. I so appreciate all of you coming here regularly to get book recommendations so feel as if I've let you down. Still, there is plenty of fall left and while I'm a little late I have eight books I'm ready to read!
As always, a number of my choices are going to be from authors I love and this one is no exception. T.J. Klune's novel The House in the Cerulean Sea was one of the most creative, happiest novels I read last year. His newest, a fantasy, Under the Whispering Door looks to be more of the creativity, but that means it's also harder to describe. Here goes: Wallace has died, but is stuck in a tea shop in the in-between life and after-life. He realizes he didn't do much living and looks to Hugo, the tea shop owner, to help him correct that mistake. (September 21, Tor)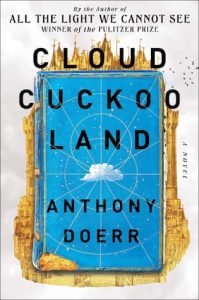 His last novel is one of my all-time favorite books so while it weighs in at a hefty 640 pages I'm excited for Anthony Doerr's Cloud Cuckoo Land. It looks to be a sprawling epic about the past in Constantinople, the present in Idaho, and the future in space. I have no idea how this is going to work, but am hopeful Doerr's writing pulls it all together. (September 28, Scribner)
I'm switching from fiction spanning centuries to the all-too-real present day. Eli Saslow is a prize-winning journalist for the Washington Post. His book Voices from the Pandemic, is a firsthand account of American lives impacted by the last 18 months in the world of COVID. The book is not political and as far as I can tell is an on the ground cross-section of Americans. Given that we're more deeply divided now than ever I need this kind of education. (September 28, Doubleday)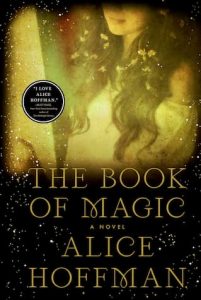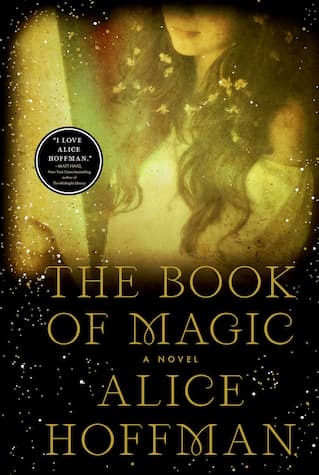 I'm so happy about this next book. Alice Hoffman is back to wrap up her Practical Magic series. She's a go-to author for me and I've loved these stories. In The Book of Magic the Owens women are back as they rally to save a beloved family member and a man fallen victim to their curse. (October 5, Simon & Schuster)
This year has seen a new trend of White authors co-writing novels with Black authors when the subject matter involves racial issues. It's a welcome opportunity gain perspective. We are Not Like Them is about two lifelong friends, one White, one Black and what happens when one's husband, a police officer, shoots a Black teen. With such an incendiary topic this will have to be well-written to avoid being sensationalistic. (October 5, Atria)
This choice is a wildcard. I'm not generally a fan of politicians writing fiction (feel free to insert whatever snide response you want here), but Louise Penny is so strong I have to believe she wouldn't have signed on for this unless she thought Clinton was up to the task. State of Terror is about a new Secretary of State joining a new administration after a one term xenophobic president. Hhhmmm. There are terror attacks and a conspiracy aimed at further destabilizing American democracy. Probably best to leave it at that. (October 12, Simon & Schuster)
My second fall nonfiction is about a subject I've long found interesting, but not done much reading about. Seed Money is about chemical manufacturing monolith, Monsanto, and its impact on farms and the everyday foods we eat.  Now part of global pharma company, Bayer, this expose is based on numerous sources and traces the company's history back to the days when it made Agent Orange. Wait…what?! (October 12, W.W. Norton)
Jodi Picoult is an auto-buy author for a lot of people. She's a bit more hit or miss for me, but when she hits it's big. Wish You Were Here looks to be her take on the pandemic with one young woman taking a trip alone that was supposed to be with her boyfriend, only to find herself quarantined on a Galapagos island. She's left questioning the life she's so carefully planned. (November 30, Ballantine)
If you're interested in more under-the-radar fall releases check out my episode with Sarah on Sarah's Book Shelves Live (click here or on graphic below). We each share 8 books we're looking forward to this fall. So many reading options!
This post contains affiliate links which means if you click on a link and make a purchase of any kind, I get a small commission (at no cost to you).
Related Posts