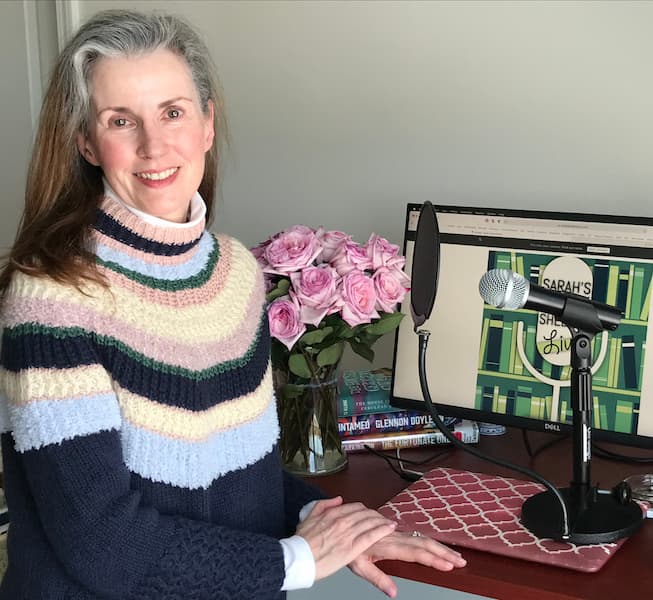 Happy New Year from the Gilmore Guide to Books! I'm starting 2022 off a bit differently—no book review yet (but plenty to come!). I've been remiss about keeping everyone up-to-date about what's happening so decided the new year was the best time for a quick, but important update. And it's not about the fact that I'm still growing out my formerly brunette hair color. Although, it will be 2 years in March and I'm hoping to look like Miranda Priestly by this summer. 🤣
For the past two years I've been co-hosting preview episodes on a podcast called Sarah's Book Shelves Live. Initially I did really well with putting links to these episodes at the end of book posts, but I slacked off in 2020 and 2021 (COVID brain). These four seasonal episodes have been a lot of fun and give me more of a chance to engage with another book lover live and reach a wider audience. Sarah is a great host and we always have fun talking about books, among other things. 
The news is that the podcast and my episodes with Sarah have become successful enough that she's expanded my role to 10+ episodes a year. Some are available for free so I've added a new menu at the top of the Gilmore Guide home page. Clicking on that will take you to links for the various episodes I've been in. I'm including past episodes because book ideas never get old!
I still love writing reviews and am going to continue to do so, but listening to reviews can make running errands, exercising, or working around the house a lot more fun. Sarah has authors and industry insiders on as well as other avid readers who have expertise in categories (like my friend Susie who is an audiobook maven). There is something for everyone.
You can find Sarah's Book Shelves Live wherever you go for podcasts (Apple, Overcast, Audible, Spotify). It's free so please subscribe and tell your friends.
I keep the Gilmore Guide to Books free to readers, but there are costs to maintaining it. The same is true with a podcast so Sarah also offers additional content to subscribers for a small monthly fee. Some of these episodes include me sharing even more books, new and old, that I've loved and even those I didn't like—lots of honest book talk. Details and sign-up are available here.
Related Posts