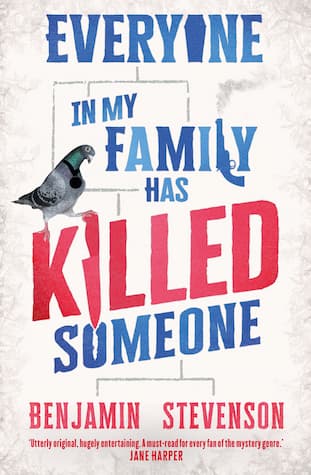 I don't generally have themes for my reviews, but it just so happens that I've got two reviews this week with book titles that make them jump out at potential readers. Today, I'm enthusiastically endorsing Everyone in My Family Has Killed Someone. Great title, right?! Luckily, it's backed up by well-crafted story about an Australian family's reunion at a ski resort. It's the first time the Cunninghams have all gathered together since the oldest son, Michael, was sent to prison for murder. Now, he's been released and all are gathered to welcome him home. An unexpected storm strands the family and provides the backdrop for an old-fashioned mystery with twists, clues, suspense and intrigue. What makes it fresh and addictive reading is Everyone's narrator.
Ernest Cunningham writes how-to manuals for people who want to write crime/detective/mystery novels. He does this despite never having written a real mystery novel himself. This should be enough to set Ernest up as an unreliable narrator—how you can you trust someone claiming to know how to do something they've never done? Except from the beginning, he is charmingly forthright. He promises not to lie and, in an effort to be even more helpful he gives the page numbers where there will be dead bodies for those who read mysteries for the body count.
It takes more than disarming charm to make bingeworthy reading and Everyone in My Family has the necessary ingredients, beginning with a complicated extended family.  All of whom show up at the Sky Lodge Mountain Retreat, including Ernest's soon-to-be ex-wife, his mother and her husband, Michael's lawyer; and his stepsister, among others. It's a fractious cast, with more than one family member unhappy with Ernest. This is problematic as he's not only the narrator, he is the novel's unexpected detective.
If you're a mystery fan who needs a psychological component to their thrillers the Everyone is not going to be as appealing to you. This is a traditional murder mystery with all the answers (hidden) on the page ala Agatha Christie. What makes it fresh is that there is no fourth wall. Ernest speaks directly to the reader. He knows you're there and it is clever and funny. Everyone in My Family Has Killed Someone wraps-up a bit too neatly for my taste, but I was entertained from start to finish. The perfect antidote to the winter blahs.
This post contains affiliate links which means if you click on a link and make a purchase of any kind, I get a small commission (at no cost to you).
Related Posts