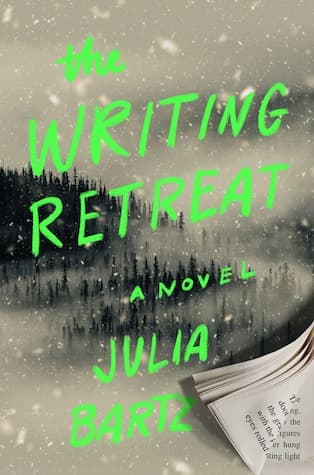 I'm a pushover for fiction about writers writing so The Writing Retreat by Julia Bartz had the basic ingredients to draw me in. Alex has dreamed of being an author, but has had writer's block since the unfortunate and very public shattering of her relationship with her best friend. Now, both have been invited to a prestigious retreat held by renowned feminist horror author, Roza Vallo. For one month they'll be ensconced upstate at her beautifully renovated, but supposedly haunted 19th century mansion. Three other women will be joining them. Of course, there's no internet or cell service, and by the end of the second week there is a massive winter storm that cuts them off completely. Let the fun begin.
The fun being that the retreat is not learning experience; it's a competition. The women have one month to complete a novel, a mind-boggling task, but with an extraordinary payoff—a million-dollar publishing contract for whoever wins. As decided by Roza. From this point forward, the mysteries and plot twists arrive helter-skelter.
If it's possible to be repelled and seduced by a book at the same time, then The Writing Retreat succeeds. What repelled me is a narrator who, from the first page, is so insecure and neurotic that she's certain teenagers are talking about her on the subway. Alex is in her 30s, so this level of neuroticism elicits annoyance rather than sympathy. It also puts me on edge when an author pushes too hard in framing a protagonist as a fragile and therefore unreliable narrator.
This combination would normally be enough to put me off a novel, but Bartz's writing is seductive in a way that makes the initially irritating narrator and over-the-top antics in The Writing Retreat work. I may have rolled my eyes a few times, but I could not put the book down.As long as you don't take this too seriously it's scary, fast reading.
This post contains affiliate links which means if you click on a link and make a purchase of any kind, I get a small commission (at no cost to you).
Related Posts