Compound Fractures (Alan Gregory, #20)
by
Stephen White
Published by
Dutton
Publication date:
August 20th 2013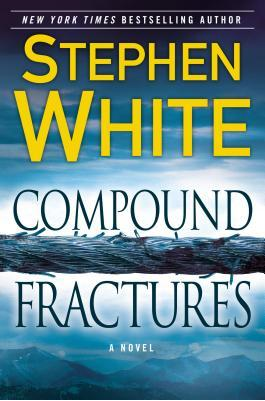 The last couple of weeks have been big reading weeks. Intense reading weeks. Worth every minute and page but leaving me fairly drained. So when I saw that Stephen White had come out with a new Alan Gregory mystery in August I decided to break away and revisit a favorite character. Compound Fractures
is the 20th and final novel in the Alan Gregory series and I've read all of them. White lives in Colorado and has based the series in Boulder. One of the things that drew me into the books initially was Dr. Gregory's wife, Lauren, who is an assistant district attorney and has multiple sclerosis, a subject in which I have a special interest. Being chronic, incurable and highly individualized means that very few people are impacted the same way and even fewer are well represented in fiction. White himself has MS and so portrays Lauren accurately and in full—neither minimizing nor dramatizing the disease. That plus the fact that the novels are big on psychological suspense and low on gore meant they were compulsive reading for those of us who don't want graphic physical prose in our mysteries.
Without disclosing too many details (and therefore spoilers) it is safe to say that Dr. Gregory is once again beset by trouble. By the close of the 19th novel, Line of Fire, a long-time colleague and friend had inadvertently shot Lauren in the back while she was in his office. Her prognosis was not good nor was the reason she was in Gregory's office first thing in the morning. In her legal capacity she became privy to new information about an old death, one that was ruled suicide but was now beginning to look like homicide. A death about which Gregory and his close friend, Boulder cop Sam Purdy, have intimate knowledge.
One of the reasons these series has worked so well is that White strikes all the right notes by making Gregory a cerebral protagonist and pairing him with Purdy, a regular joe of a cop who relies on his gut to get to the truth. The word play between the two is always entertaining but the fact that Purdy's loyalty to Gregory is called into question in this last installment gives every word extra meaning. Is he friend or foe? Have the forces aligned against them made it every man for himself? Add the reappearance of old patients, ethical dilemmas, and the painful truth about a loved one, and it is clear that White is going to put Dr. Gregory through the wringer before letting him exit the page. This is the only hesitancy I would express—White seems so cognizant of this being the last in the series that he's determined to bring everyone back and to answer all questions. This is not the usual formula of these novels. In fact, after twenty books, there is no description of Dr. Alan Gregory. Like many personal details White leaves it to the reader to fill in (which will work well if the series is ever optioned for a movie). For some this may be annoying but for those with a vivid imagination it's not a problem.
Despite the everything-including-the-kitchen-sink feel to Compound Fractures the novel works as a fast paced mystery that will keep the reader off balance. For long time readers of White there are significant revelations about some of the major characters that will be an unwelcome surprise and in one particular case he goes full bore to complete their moral downfall. In the same way that it leaves Gregory reeling it will leave many fans shaking their heads. All is not as it seems and apparently it never has been. Thank you, Stephen White, for twenty opportunities to crawl inside the mind that crawls inside the mind—and who knows? Maybe Dr. Alan Gregory will be back. Please?
Related Posts