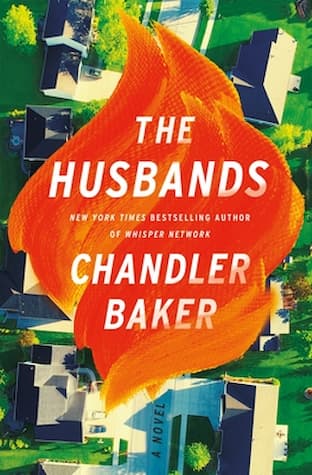 Chandler Baker established herself as a woman with something to say about the world of men in her debut Whisper Network. A novel about a workplace serial harasser brought down by the numerous women who lived through his abuse. Now she's back with the next step in attacking the patriarchy—the age-old battle over shared domestic responsibilities, from parenting to groceries to laundry. And, in the dedication to The Husbands, she makes it clear there will be no subtlety in the novel's following pages.
To the millions of women who are struggling to be caregivers, mothers, coworkers, and spouses all at once—and who left the workforce this past year in record numbers (at four times the rate of men)—because women can do anything, but they can't do everything.
Nora is a 35-year-old lawyer on the partner track at her firm but to get it she's got to be more visible at work. Something not possible with a 4-year-old daughter and a loving, but lackadaisical husband. The kind of man who will "take care of it", but with no definitive timeline. Which is why she's dragging him to see a house in a new development called Dynasty Ranch. They've outgrown their current place and Nora wants to move. Hayden, not so much. She's immediately seduced by the house, so when the realtor mentions one of the neighbors needing a personal injury lawyer she volunteers in hopes of getting a better sense of the community and to bring in a new client to the law firm, increasing her chances for promotion.
After just two visits with local women she notices that the neighborhood's husbands seem different. They Marie-Kondo closets, set up play dates for their children, cook dinner. Nora is starry-eyed so Hayden agrees they can make an offer on the house. As the slow process of bidding, submitting financials and an HOA application unfolds, Nora is feeling increasingly squeezed at work. She needs more help with their daughter, but for as genial and supportive as Hayden is his work life always overrides hers.
A quarter of the way through The Husbands I was all in with Baker's worldview. Hayden is nice, but can't even manage to get his socks into the laundry basket or buy groceries on the way home. And he whines! I also knew, from the dedication, that Baker wasn't going to pull any punches, but by the halfway point any pretense of nuance had left the novel. All of the characters flatten into unlikable caricatures and the plot devolves into outlandish dramatics. The concept of Stepford Wives (or husbands, in this case) is satirical, but without balance it doesn't work. There is none in The Husbands. I'd hoped for a sophisticated novel, but was left with something oddly dark and silly at the same time.
This post contains affiliate links which means if you click on a link and make a purchase of any kind, I get a small commission (at no cost to you).
*I received a free copy of this book from Flatiron Books in exchange for an honest review.*
Related Posts