Last week involved wrapping up some big reading and then trying to corral my thoughts into something articulate. I'm referring to A Little Life, one of the most difficult but poignant books I've ever read. To compound things I read Our Endless Numbered Days last week and it's another complex piece of literary fiction (my review will be later this week). That's why it may not be too surprising that I'm staying in quieter waters for my fiction reading this week.
Mademoiselle Chanel
: Historical fiction about Coco Chanel because even if I know her story by heart, I still love hearing it again. I always learn something new, even if it's not positive.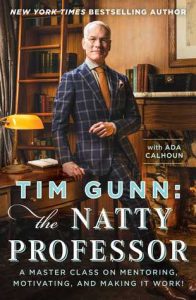 Tim Gunn: The Natty Professor
: Tim Gunn. Because you can never get too much of this good thing. Do I need to say more? I didn't think so.
Do Your Om Thing: heard about this and thought it was time to try and get back to my yoga and meditation practices. Too much long term stress and age (yuck!) mean I'm not handling things with the ease I used to. When did stiffness become the norm? The bottom shelf of anything has become an exercise in futility- or at least pain. I'm not looking to be bend-y anymore I just don't want to fall over when I try and straighten my legs.
Midcentury Houses Today
: Because at long last we bought a house here in Seattle. It's not been easy (see book above) but now we need to bring a 1958 house into the 21
st
century while not obliterating its heritage. If you like all things remodeling, I'll be writing about our experience on my lifestyle blog
Inside Out
. It should be an exciting mixture of good, bad, and ugly. Oh, and expensive. Which I guess counts as ugly.
Enough about me- what about you? It's Monday- what are you reading?! 
Related Posts