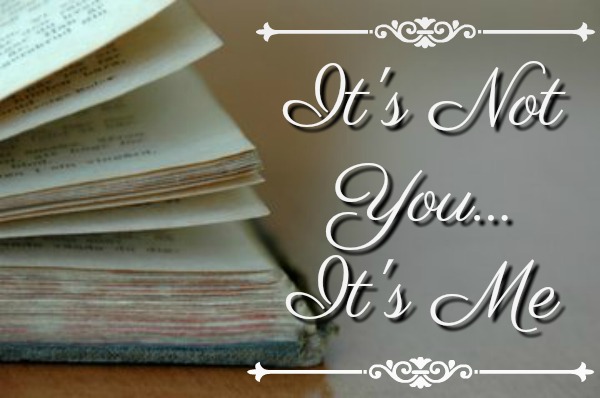 This month's It's Not You, It's Me is especially true because I am not really liking, much loving, anything I've read. In fact I DNFed (did not finish) 3 books in a row, which is a first for me. There are any number of bloggers who have blamed this syndrome on the novel A Little Life, which I did read and which is an incredible piece of writing that still haunts me, but I'm not sure it's even that. Whatever it is, it left me with three books from March that did not work for me but which probably just need the right reader.
The Fifth Heart by Dan Simmons
Publication date: March 24th 2015
DNF

If you 're a fan of Henry James, Sherlock Holmes and dense meaty historical fiction then Dan Simmons' The Fifth Heart will ring your bell. James and Holmes come together to solve the murder of one of James' friends, Clover Adams. Author Dan Simmons has written some gripping tales but this one is so replete with backstory—including Holmes' realization that he is a fictional character—that I only made it 263 pages through what is a 600 page mystery novel. The mystery pales in significance to the journey of the two men from London to multiple points in America where they encounter such luminaries as Samuel Clemens. What exactly they are trying to solve: a murder, the meaning of existence, or 'are we real?' was too much for me. I didn't have the heart to finish.
---
Get in Trouble by Kelly Link
Published by Random House
Publication date: February 3rd 2015
Genres: Short Stories


Get in Trouble, the new short story collection from Kelly Fink, is a bit like a funhouse ride in that you never know what is around the bend or what reality it will portray. The only thing identifiable about Link is the fantastical nature of her stories. They are out of this world—literally. Stories populated with a people who create tiny wondrous machines or where the wealthy hire people to live their children's teenage years in public so they can be scandalous in private without repercussions are a caffeinated blend of magical realism and futurism. At the same time, there is always a thread of basic human emotion pulling each story along.
This is both the strength and the weakness of Get in Trouble because each story requires a certain presence of mind and attention to understand it. Fink is so wildly inventive and out-there that, in the same way I could not master using a stick shift, my brain couldn't move through the gears of these stories quickly enough and I stalled.
---
The Dream Lover: A Novel of George Sand by Elizabeth Berg
Published by Random House
Publication date: April 14th 2015

The Dream Lover is a novel by Elizabeth Berg about the life of Aurore Dupin whose pseudonym was George Sand. Dupin lived in the 1800s in Paris and was a prolific writer whose public persona was as well known as her novels. She indulged a penchant for wearing men's clothes, smoked cigars and had affairs. The title is apt because the novel is largely about Sand's search for the perfect love. In this way The Dream Lover either echoes Sand's real life or is an overwrought piece of fiction because from Berg's perspective Sand is on an almost hunt for emotional fulfillment. Told from Sand's point of view it comes across as very old-fashioned and theatrical, which may be the tone Berg wanted. Sand is portrayed as fiercely independent and a highly disciplined writer who flouted the traditional women's roles of the time, making her constant longing to be consumed by a man's love difficult to understand. I have never read any of her work so this may be why this novel did not inspire love in me.
Have you read any of these It's Not You, It's Me books? If so, please leave your thoughts!
Related Posts