The Song Rising (The Bone Season, #3)
by
Samantha Shannon
Published by
Bloomsbury Publishing
Publication date:
March 7th 2017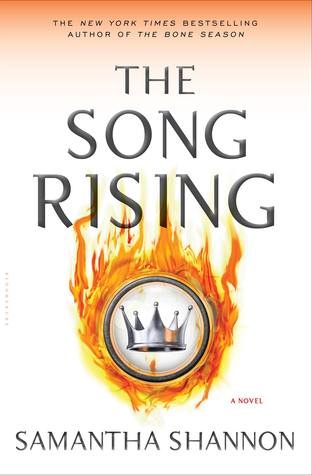 Oh, happy day, Paige Mahoney is back in book three of the Bone Season saga! At the end of The Mime Order she had wrested control of the London clairvoyant syndicate from her boss and mentor, Jaxon, and was now the new Underground Queen. Unfortunately, she had not killed Jaxon in the process and when the novel ended she learned that he was working with their greatest enemy, the Scion. In The Song Rising Paige needs to manage her new role as leader while fighting the increased pressure from Scion to destroy her and everyone like her.
Author Samantha Shannon brings back virtually all of the original cast in The Song Rising but ratchets up the tension by tightening Scion's noose around London and the voyant population. They've produced new technology that, out of the seven levels of supernatural powers, can detect humans with voyant capabilities up to level four. This pushes all voyants deeper into the underground and limits their ability to survive. Paige must work with the Ranthen, immortals who have long been their enemy, to find where Scion's new weapons are being produced and what fuels their technology. There is no trust between any of the factions meaning every decision made comes at the risk of betrayal and destruction.
Action and the kind of imagination that fuels science fiction is not enough for a long term series to be successful. There needs to be an evolution of the characters and Shannon gets this. In books one and two, Paige was very clearly the underdog, but in The Song Rising her character becomes more nuanced. She is still fighting the good fight, but she's also faced with personal sacrifices and the growing pains of leadership and making mistakes. Additionally, Shannon uses the novel to continue to fill in the back story of this Great Britain of the future and of who the players have come to be aligned as they are.
By this point, if you haven't read the first two books it's worth it to go back and do so before reading The Song Rising. Plus, it's great escape reading and there are still 4 more books to come. The novel stands on its own, but stepping into the middle of this world of crime, double dealing, the paranormal, and authoritarian regimes is not nearly as much fun as full immersion. As each book ends, my only thought is 'why can't I keep reading?'—the hallmark of a skilled storyteller. I can't wait to see what happens next.
Related Posts