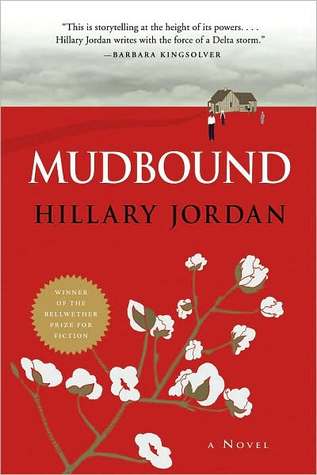 In 1939, at age thirty-one Laura is considered almost unmarriageable. All of her siblings have married and left the family home in Memphis. She has resigned herself to the fate of spinster schoolteacher when Henry McAllen appears and wants to marry her. He seems like a kind man, even if he is ten years older than her and with a limp from his time in France during the Great War. Unlike her family, he prefers the country and wants someday to move back to Mississippi and have his own farm. Feeling that this may be her only chance for marriage Laura swallows her fears and agrees. World War II changes both of their plans and those of everyone around them, but when the war ends, Henry moves his family, now grown to include two daughters and his father, to a farm in rural Mississippi. The life and people they encounter there shape the narrative of Hillary Jordan's powerful debut novel Mudbound.
Through a series of unfortunate events Henry and Laura do not get the lovely house and acreage Henry described for their farm. Instead, he is swindled and they must live on their land in a shack with no plumbing or electricity. Henry has not deliberately lied to Laura but it hardly matters; her life has gone from one of gentility to one of drudgery. In short order she has not only two children to take care of, but also Henry's father, a miserable, belligerent racist, who makes everyone's life as miserable as the inside of his own twisted mind. Their income is derived in part from their own crops and from another family who lives on a parcel of their land. The Jacksons have the same kind of dreams as the McAllens but as blacks in the 1940s South they are even less likely to achieve them.
Jordan gives all of the main characters in Mudbound a voice, and delineates them so clearly it never becomes confusing. As different as they are two of the most memorable are Ronsel and Laura. He is the hope of his parents, but is unable to reconcile himself to being relegated a second class citizen in the country he fought for with distinction. The intelligence and pride that served him so well in Europe only causes him problems in Mississippi. For Laura, life is a dreary, loveless existence acting as a maid to a bitter, racist old man who, despite having sold his son's birthright, believes his word is law. That Jordan can slip into the skins of such a diverse and conflicted set of characters means that by the end she has laid her story down so skillfully that their actions, as repugnant as some may be, are the only option. Mudbound is filled with a strong, quiet sorrow that permeates the page the way the mud pervades every aspect of its characters' lives. It is a portrait of a time in American history that is as shameful now as it was then.
Related Posts