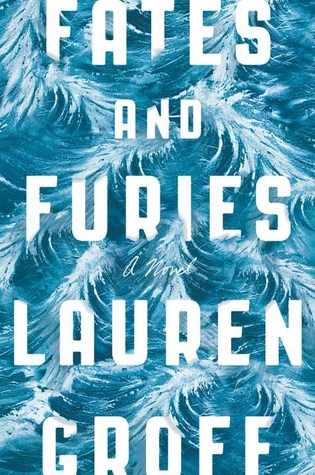 Hello, dear Reader! It's Monday and I know for a lot of you it's a busy day, getting back into the weekly grind, so if you're on the run and don't have time for a full review, here's what you need to know: read Lauren Groff's Fates and Furies. If you're a metrics kind of person I'll make it even easier—I give it 5 stars. Now go. Go and buy it, check it out at the library, whatever you need to do and get back to work, the kids, the exercise bike. If you have the time, settle in and I'll tell you all about this astonishing book.
You could say it's the story of a marriage but that's like saying World War II was a disagreement. A lot of fiction is about marriage, which means to make it memorable you're going to have to turn it on its head and shake it hard, both of which Groff does. The novel is neatly bisected between Lancelot (aka Lotto), the husband, in the Fates chapters and the wife, Mathilde, in the Furies. By the end of Lotto's life I was questioning whether I would manage 3 stars for this book, because while he achieved professional success Lotto himself is not a character who held my interest. He is a creative alpha male and everything had to circle around him. Grand, golden, glorious—gracious in the giving but always taking. A man who could never be filled with enough praise or attention from others and yet, from the moment he saw Mathilde at a college party she was enough. He had many a weakness that charismatic men have but throughout their marriage there was never a moment when he strayed or when he even contemplated leaving her. She was the prize. In an essential way she eased the emptiness inside him.
No, Groff does not take the easy route by making Fates and Furies a novel of marital betrayal. It's something much deeper, enough to make adultery seem an aside, nothing worthy of much attention. Because where Lotto is all surface and shine, Mathilde is deep and still. She is, at once, everything Lotto believes her to be, and not. Her childhood, her teen years, her origins, none of them are as he knows them for she has buried it all, figuratively and literally. And like the much-vaunted phoenix she has risen from the ashes as the ultimate helpmeet. She too, is golden but her blonde is the icy cool of Nordic waters, sleek and mirror-like. Lotto sees nothing more in her than his best self reflected back at him. She has no other aspirations than to be his muse, to take care of anything in their life that takes away from his art. There are times early in their marriage when the veneer of her calm and abiding nature cracks and Lotto sees that
Mathilde was never unkind but she wore her passive aggression like a second skin. 
Beyond that, Mathilde subsumes herself to her husband. But, in so far as she rescues him, he rescues her and that is the foundation upon which their marriage firmly rests. If it is true that
Great swaths of her life were white space to her husband. What she did not tell him balanced neatly with what she did. Still, there are untruths made of words and untruths made of silences, and Mathilde had only ever lied to Lotto in what she never said.
then that is only what is necessary for a marriage that lasted decades, until death do us part.
Groff's achievement in this book is stunning. The center of Fates and Furies is a marriage but it is in exploring what lies outside that center, outside the bonds of matrimony and inside the eye of the beholder, that Groff's prose simultaneously reveals and obscures. Fates and Furies is a literary dance of the seven veils and Groff is the brilliant, cunning Salome who holds us in thrall; as drunk on her incandescent prose as Herod was on the glimpses of the young Salome's flesh. And, in the same way Salome extracts a terrible price for her dance, so Groff strips away the conventional beliefs about knowing everything about those we love and leaves us with the bargains, obfuscations, and shadows of the truth, all employed in the name of love.
Related Posts