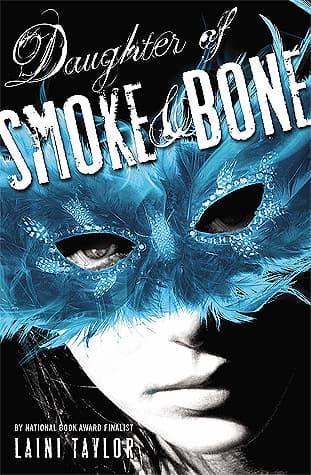 Daughter of Smoke & Bone (Daughter of Smoke & Bone, #1) by Laini Taylor
Publication date: September 27, 2011
Genres: Fiction, Fantasy, Young Adult

Bookshop, Amazon
I don't know about the rest of you, but it's requiring more and more effort to calm my reading brain. Between watching the real footage of the January 6th insurrection and trying to negotiate a cross country move I was as finicky and unhappy as a baby with colic. Nothing helped—not bright and shiny or smooth and slow—so I tossed all my preferences out the window and went with the recommendation of a friend I trust. And that's why I'm back to sing the praises of Daughter of Smoke & Bone a, wait for it…young adult fantasy novel. I know! You can hardly be more surprised than me, but I tore through this 400+ page book in one day.
Karou is an art student in Prague. Her talent is undeniable, but it's her sketchbooks filled with human/animal creatures and the stories she tells about them that keep her friends entertained. What they don't know is that these creatures are real and Karou lives between two worlds. She seems a normal teen, right down to her bright blue hair. Except that's how it grows thanks to a wish she made. A wish granted for her by the only caregiver she's ever known, a massive horned beast named Brimstone. She also speaks two dozen languages perfectly thanks to more wishes and the fact that once she was old enough she began working for Brimstone.
Although Karou lives in Prague, attends school and hangs out with friends she also visits her 'family', Brimstone and his compatriots, who are an odd amalgam of human and animal, known as chimaera. They live in another world accessed through an innocuous door in an old neighborhood. From within the dwelling on the other side of the door Karou can be transported anywhere on Earth and so she travels, in search of the one item Brimstone collects. Teeth. Not in an overtly gory way, pull them out of living humans' mouths, but teeth from animal and human corpses (still a bit icky). Much in the way of any black-market commodity she deals with less than the best of humanity, but is paid by Brimstone in wishes. She's saving up for something big—the ability to fly.
This unusual life might have continued uninterrupted, but recently the portal doors Karou travels through are being branded with a black handprint. Then, when she is in Marrakech, she sees a human unlike any she's ever seen before. This is our introduction to Akiva, an angel, and the missing piece to the questions Karou's been asking. The meeting between the two has extraordinary consequences and Daughter of Smoke & Bone explodes, the effects of the aftermath rippling outward between two worlds.
But even before the plot took hold in Daughter I was enamored with Taylor's way with words. A simple concept like the understanding between friends is relayed as
Karou loved Zuzana for her willingness to play out such silliness on a long kite string.
Word play like this makes me inordinately happy. I realize this kind of enchantment might not work on everyone so here is the caveat I'd share for less patient readers. This is a YA novel and as such, there's is a strong romantic component. It became a bit too melodramatic at times, not enough to lose my attention, but enough to cost it half a star in my rating. Beyond that the world Taylor builds is wondrous, frightening, and funny. A transportive experience.
Daughter of Smoke & Bone is cotton candy reading, not for its sweetness, but for its quick intense rush and the fact that it doesn't linger. This is not a story to be mulled over or whose characters will live on in the mind. A book to be rapidly consumed and forgotten except for the pleasure it elicited, which is just as valuable as more thought-provoking novels. Thankfully, it's a trilogy so when I need it I can fall into its fantastical world again.
If fantasy reading is your thing, I highly recommend another wonderful series, The Bone Season. 4 books already out with 3 more to come. Lots of immersive, escape reading!
This post contains affiliate links which means if you click on a link and make a purchase of any kind, I get a small commission (at no cost to you).
Related Posts