City on Fire
by
Garth Risk Hallberg
Published by
Knopf
Publication date:
October 13th 2015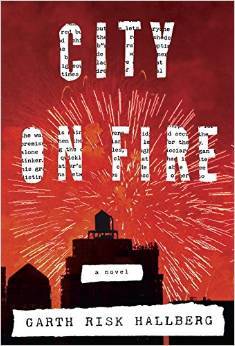 If you follow the publishing world then you know that Garth Hallberg was paid 2 million dollars for his debut novel, City on Fire, a story of NYC, wrapped around a wealthy family, an attempted murder, and the blackout of 1977. The Hamilton-Sweeneys are the family, and are as dysfunctional as one would expect in a work of literary fiction. There are secrets, bad marriages, estrangement, and very shady business dealings. The attempted murder is of a seventeen-year-old girl who is no part of the family but who may or may not have been shot for reasons relating to them. And the blackout is the deux ex machina that is supposed to wrap it all up. Sounds compelling and if it had all been confined to 400 pages it might have been a show-stopper. At over 900 pages it is more like a door-stopper.
City on Fire is an opus but without the plot to sustain it. There is simply nothing in this novel that needed so many words. Yes, Hallberg writes well but things lag to a degree that attention cannot be sustained. Even with a cast of multitudes, many contribute little to the plot, appearing and exiting with no real understanding as to why they were on the page in the first place. Yet, for an author with a pathological love of words the novel winds down and lives are wrapped up with only hints and suggestions at what is happening. It is a level of ambiguity that feels unpleasantly coy. To be clear, I'm a fan of the long book—I loved A Little Life but this simply does not have the same merit or pull. At some point, it feels like showing off: 'look I can do this! I have an encyclopedic vocabulary and can twist it into extended thoughts and observations.' It does not translate to any kind of momentum.
If the impetus for reading is not plot, then it's left to the characters to provide the return on investment. Sadly, there is little emotional attachment generated in City on Fire. The two key characters, Regan and William Hamilton-Sweeney, despite being siblings faced with chaotic and dramatic lives, are not even close nor does their relationship ever seem to move beyond a WASPy version of politeness and self-protection. As mentioned above, Hallberg excels in the details. Much like Donna Tartt in The Goldfinch (another really long book I loved) there are few visual components ignored in City on Fire. The difference is that Tartt was using details to create intimacy, but Hallberg is merely chronicling. Chronicling at an exhausting level. I'm comfortable anointing him as a genius with a descriptor but what doesn't come across is any feeling, so a connection with the panoply of characters is almost impossible.
Overall, City on Fire fell short, but credit is due to Hallberg for his writing style and his facility with structure—it is no small task to wrangle a story of this size and despite its length the novel is cohesive. If the premise of a book being worth $2 million has got you hell-bent to read City on Fire then you need to get out of here because at 944 pages you have to start reading NOW. Go. For me, none of the premises panned out and the novel is best summed up by one of Hallberg's own characters who in looking at an artist's work could only say:
She couldn't tell if it was good, exactly, but no one could say it wasn't ambitious. 
Related Posts