Sons and Daughters of Ease and Plenty
by
Ramona Ausubel
Published by
Riverhead Books
Publication date:
June 14th 2016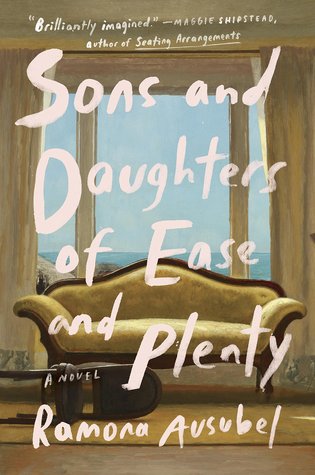 It seems like a fairly straightforward equation: a father plus a mother plus three children equals happiness, but when the pluses that bind their reality is removed these elements no longer add up and the results are wholly unexpected. In Ramona Ausubel's new novel Sons and Daughters of Ease and Plenty the plus is money, lots and lots of it, enough that Fern and Edgar have never had to think about it. Instead, Edgar has turned his back on his family's money and the job that awaits him running his father's steel company to pursue his dream of being a writer. Fern, who was all of eighteen when they married, is simply happy with the life of wife and mother. At twenty-eight she is saddened but not surprised when her parents die. The surprise comes six months later when the estate is settled and there is no money. None. It has all been spent.
Suddenly, the real world comes pushing and shoving into Fern and Edgar's idyllic life. For Fern, there is no question—Edgar must give up his as-yet-unsuccessful writing career and go to work with his father. For Edgar it's a very big question. Even though his family's money and connections have paid for all of his homes and gotten him out of combat in Vietnam he still models himself a Marxist, uninterested in the corrupting influence of money.
To him, his parents were the frivolous ones—not only owning but enjoying their spoils. Edgar's intentions were entirely different from his parents', though to someone on the outside, his life was nearly indistinguishable from theirs. 
With sentences like this Ausubel tips her hand a bit about Edgar—he is one of the guilty rich. More than happy to live off the sweat of the workers he claims to identify with, but believes himself to be subversive for trying to write a novel about a young man who exposes his father's guilt in worker exploitation and walks away from his family money. Strong words, but words only.
When their fantasy life "of ease and plenty" collapses Fern and Edgar respond in the same way: they take off. That they do so at the same time, inadvertently leaving their children unattended for five days, is Ausubel's way of taking their immaturity and self-absorption to a level that commands notice.
There is the obvious plot in Sons and Daughters but it is only part of what makes the novel. It is Ausubel's prose that is the most important ingredient—whether it is the tart tang of lemon that is Fern's mother, who, after giving birth to her can only think
In the girl's scrunched face Evelyn saw the entire path: pigtails, dollhouse, riding lessons, foxtrot, engagement, white dress, all in service of repetition of this very same moment. Another perfectly wasted life.
 Or the vanilla of comfort Fern and her brother find in each other when they are young
Fern and Ben shared a bed, and in sleep their twin bodies did not recognize their separateness. For Ben it was the kindest the world ever felt. Fern liked it too—lying beside him was the only place where the searching hum of the world went quiet.
Without these words, strung together exactly as they are, Sons and Daughters would be just another novel about a wealthy family behaving badly. Instead, it's a thoughtful novel, a bit odd, but in the way that life can be odd and inexplicable. For some, it won't translate—parents abandoning their children, even if by mistake, is a level of self-indulgence that is unacceptable even in fiction. For those who can look beyond the exaggerated circumstances the reality Ausubel creates about life, love, family and the journey is not exaggerated at all.
Related Posts